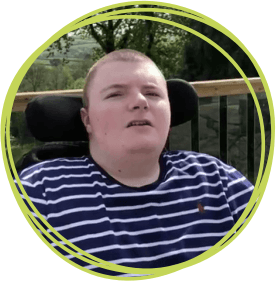 Jonathon usually visits Little Harbour with his family.
Jonathon has used his time in lockdown to finish recording a special song that he wrote with his sister.
21-year-old Jonathon has Duchenne Musular Dystrophy and has been self-isolating at home with his family. Mum, Becky, describes how music has helped Jonathon during his time in lockdown.
"Jonathon often sings covers of songs that he posts online to help raise funds for and awareness of his condition and different charities (including Children's Hospice South West and Action Duchenne). However, he wanted to record an original song too so he started writing Horizons with his sister before lockdown. With the help of a musician he found on the internet, he recorded and finished the song while self-isolating at home.
Music has been a great help to him during these strange and uncertain times. It is not only a great distraction from overthinking but also good for his lungs.
As a family, we are coping reasonably well with lockdown. Both Jonathon and his dad are in the vulnerable group, so having to shield for so long is a little testing. I think Jonathon is enjoying having us home all day although I am grateful that I am lucky enough to be able to work from home. I think Jonathon's dad is finding it harder as he is not able to work from home, so is missing work now.
However, we are grateful for the views over the Tamar Valley from our garden."