Gift Aid explained
Choose to Gift Aid and increase your donation by 25% at no extra cost to you.
Gift Aid is one of the simplest and most effective ways of supporting a charity. It is a scheme administered by the HM Revenue and Customs (HMRC) which allows us to claim 25p for every £1 that you donate or £1 of your donated goods that we sell. 
You simply need to have paid or will pay an amount of income tax and/or capital gains tax that is at least equal to the tax that Children's Hospice South West and other charities and Community Amateur Sports Clubs you donate to will reclaim on your donations in a tax year.
Retail Gift Aid explained
Donating to our shops plays a vital part in raising money to enable u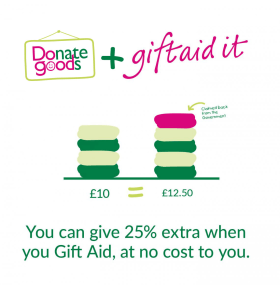 s to continue providing specialist care to the life-limited children and young people of the South West and a safe haven for their families who face the most difficult road imaginable.  By allowing us to claim Gift Aid on the proceeds of your donated items you will be helping us generate even more income, at no extra cost to you.  We can claim a further 25p from HM Revenue and Customs for every £1 of your donated goods we sell.
You can sign up for Gift Aid at your local Children's Hospice South West shop.
Once you have signed up to Gift Aid using our electronic till system in any of our 38 charity shops, you will be given a unique Donor ID number and all your items will be labelled with this number to enable us to record the sales value.
You can access your Donor ID using the My Charity Shop App
*Apple App Store logo and link
*Google Play store logo and link
You will be notified by email or letter of the total sales value of your items before any Gift Aid is claimed. (This gives you the opportunity to cancel your declaration if your circumstances have changed, i.e. you are no longer a taxpayer or have paid insufficient tax to cover your Gift Aid claims.)
Need help?
For any retail Gift Aid enquiries you can email our Gift Aid team or give them a call on 01271 325 270.
Have your details changed?
If you would like to update your Gift Aid Declaration, contact details, or change your email notification settings please complete the form below.