Zoe pedals her way to £1400 donation for CHSW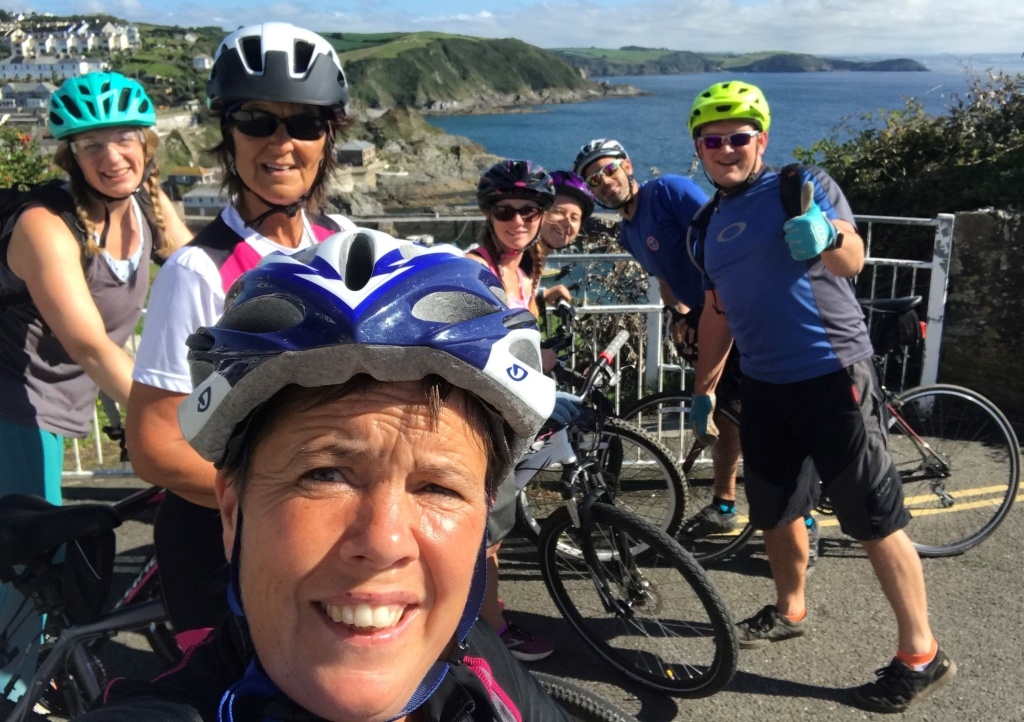 44 year old Zoe Harris from Menheniot has used lockdown as an opportunity to rediscover her love for sport and the outdoors while also raising vital funds for an important local charity. 
Throughout May Zoe challenged herself to walk 100 miles, embracing the chance to get outdoors she managed to clock up an impressive 205 miles by the end of the month. This spurred her on to her next challenge; cycling 1084 miles in 12 weeks, the equivalent distance of Lands End to John O'Groats.
Starting with a 3.5 mile bike ride at 5am before work on 1st June Zoe returned home aching and wondering how realistic cycling over 1000 miles really was. By the end of June she had managed to cover 567 miles on her mountain bike that she had rescued from her garage, and was cycling every day while also working full time at Callywith Quarry.
Zoe explained:
It was only after a month of cycling that I realised I was probably going to be able to do the distance and that something else positive could come out of this if I could raise some money for charity while I was doing it. That was when I chose to start collecting donations for Children's Hospice South West (CHSW).
Zoe continued to cycle everyday throughout July, sometimes on her own and sometimes with friends. On 25th July Zoe, along with friends and family, completed a 47.5 mile cycle in the Cornish summer rain which marked her reaching the 1084 mile target. 
"Everyone thought that I was going to call off my last day of cycling because of the weather but I had cycled every day for almost two months, rain wasn't going to stop me! It was an amazing feeling to complete those final miles with my friends that had joined me along the way as well as my husband and two children."
As her miles had been increasing so had her fundraising total and Zoe was determined to keep cycling for the final few days of July. By the end of the month she had clocked up 1187 miles on her bike over the 61 days with over £1400 raised for CHSW.
Looking back on the experience Zoe explained how she felt:
It was honestly the best decision I have ever made, I have seen some amazing sights; wild deer, sunrises, sunsets and new places all while making the most of the amazing weather. It has certainly put a positive spin on lockdown for me.
"It has been lovely to hear of some people who have been inspired and are now taking on their own challenges. If I can find the time to do it while working full time and with a family then anyone can." 
"It hasn't been a chore at all, there have of course been some days when I didn't want to go but I always did and I always felt better for it. I have lost over a stone in weight and now when I am cycling with friends I am waiting for them to get to the top of the hills rather than the other way round!"
"I am finished with challenges for now but I am still cycling or walking most days, it doesn't feel right not to anymore!"  
Amanda Masters, Community Fundraiser for CHSW said "When we heard of Zoe's challenge we were absolutely blown away. She has done incredibly well to not only get all those miles under her belt but also to have raised such a fantastic amount of money and all through such uncertain times. Thank you Zoe for all your hard work and to everyone who donated and supported you along the way."
CHSW has three children's hospices including Little Harbour in St Austell. The hospice supports children with life limiting illnesses and their families. Through the coronavirus pandemic the hospice has had to adapt its care, giving more support virtually as well as visits to children at home while also keeping the hospice open 24 hours a day for emergency visits.
Zoe's fundraising page is still open for donations simply click here to make a donation