Santa Claus set to zoom into living rooms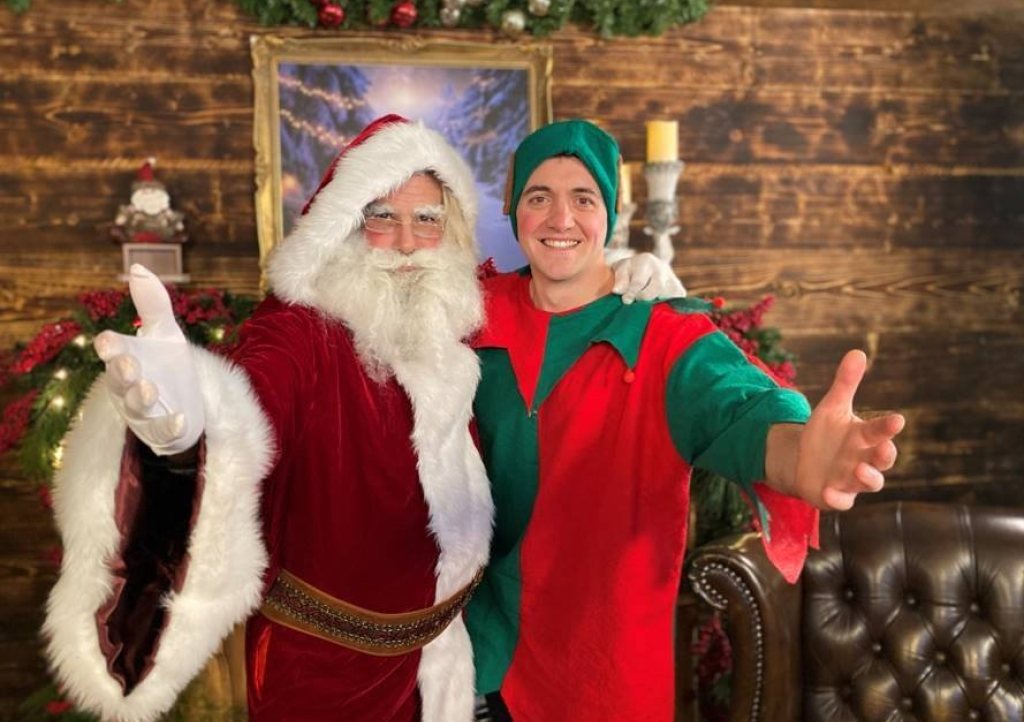 As people across the UK settle into Lockdown 2, and new tiered restrictions, Children's Hospice South West is delighted to announce that their team has been in super-secret discussions with Santa's helpful elves. 

Just as everyone has to find new ways to make the most magical things happen in this 'new normal', Santa recognises that children coming to visit him in a grotto during a global pandemic probably isn't a wise idea.
Therefore, exciting news has just come in from the North Pole confirming that parents, grandparents, families, friends and godparents will be able to arrange either a live session, or a pre-recorded, special message from Santa, for children right across the country, safely in the comfort of their own homes.

This has all been made possible via the technological wonder that is Zoom, and a new partnership between Santa, Children's Hospice South West and a new virtual and creative Santa team.

Santa sessions are currently available over the weekends from 28th/29th November and mid-week from 21st - 24th December. However, as demand is expected to be high, there's a strong likelihood that Santa will make himself available on weekday spots in the final weeks running up to the 25th December. 

A huge added benefit is that for everyone who books a session, a 10% donation will go to Children's Hospice South West, supporting their invaluable hospice care for children with life-limiting conditions and their whole family.
  And as the Virtual Santa team is based in Cornwall, they have selected families that attend Little Harbour to receive a Virtual Zoom with Santa for free and will be organising these in the very near future. 

Logging in from his home in the far North Pole, with a special festive video message which is available to view on the website, Santa himself said, "It's almost Christmas time and Christmas is my favourite time of year!  Normally I would be preparing my grotto and getting ready so you can all come and see me and meet me face-to-face, and tell me all about the Christmas presents that you would like."

Santa continued, "But in 2020, we're going to do things a bit differently.  So my very clever elves have brought some 21st Century technology to the North Pole.  I'll be able to stay right here in my home, and you can be in your home and we can talk to each other on our devices.  It's very clever! I'll see you all soooon on Zooooom! Ho, Ho Hooooo!"

The Children's Hospice South West team generally provides respite and short breaks, emergency care, palliative care and end of life care at three wonderful children's hospices; Little Bridge House in Devon, Charlton Farm in Somerset and Little Harbour in Cornwall.  However, this year, they have extended their programme into the provision of invaluable 'hospice, home and virtual' care for some 500 children and their surrounding families.

Kiley Pearce, Events Fundraiser for Children's Hospice South West said, "There's lots of silver linings of our current COVID world and one of those has most certainly been our ongoing liaison with Santa's super helpful and proactive elves!  And along with our Virtual Santa colleagues, we've all pulled it off to make sure no children have to miss out on their lovely opportunity to see and chat to Santa this year."

Kiley continues, "We're delighted that our children across all of our hospice operations are also set to benefit with the generous donations that every Santa Zoom visit will bring.  These donations are even more vital this year, and we're also delighted that all of the children under the care of our Little Harbour Hospice in Cornwall will be getting a complimentary Zoom visit as a result of the generosity of this campaign."

All people need to do to book a virtual Santa session is log onto the Virtual Santa website here - and follow the easy steps to book a guaranteed, personal, live time slot for their child/children on a confirmed date and at a confirmed time with Santa at his home at the North Pole.  Alternatively, they can book a personalised message for their child or children that can be played time and time again.  
10% from every booking made will go to the Children's Hospice South West and up to 100 children from Little Harbour will also be gifted a personal Santa Zoom session or a personalised message as a result of the partnership campaign with Virtual Santa.