Narnia mirror is stunning new addition to sensory garden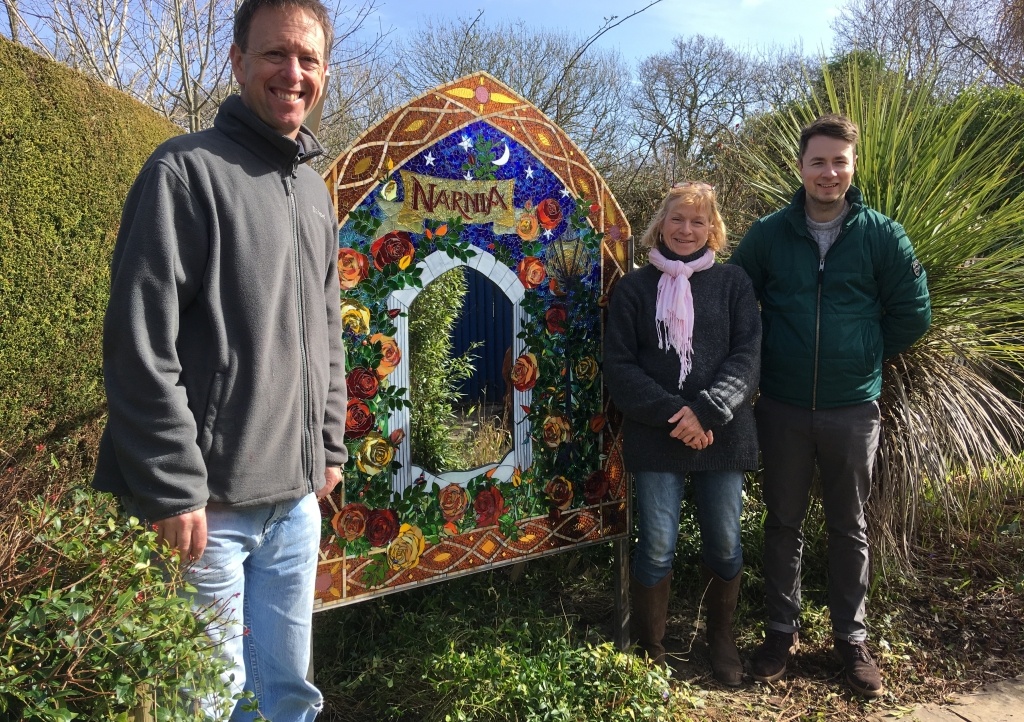 The very special Narnia sensory garden at Children's Hospice South West's Little Bridge House has been given a fabulous new look thanks to two talented local craftspeople and a host of generous CHSW supporters.
A stunning new stained-glass mosaic mirror designed and created by Silverton-based glass artist Sue Smith has been installed at the hospice in Fremington.
The colourful mirror is fully water-, rust- and frost-proof and replaces the garden's original weather-worn Celtic mirror. It was paid for with donations from Barnstaple's Rotary Shop; Bideford, Barnstaple, Lyn and Holsworthy Lions Clubs; the CHSW Taw and Torridge Friends Group; and a personal supporter donation.
Mike Hayman of Tiverton-based MA Engineering made the stainless-steel frame at a much-reduced price and Lorraine Ashley donated the fused robin, butterflies and dragonfly. Exeter-based Cornwall Glass kindly donated the safety mirror and delivered it to the hospice at no charge.
The Narnia Garden has also been given a lift with the help of North Devon thatcher Ian Rose, who lent his expertise to re-thatch the roof of Mr Tumnus' hut. Ian, who thatched the original roof, spent two days giving the hut a tidy new covering.
The magical Narnia sensory garden, based on the C S Lewis book 'The Lion the Witch and the Wardrobe', is full of features to stimulate the senses including crystal icicles, a wardrobe door and even a roaring Aslan!
Tracy Freame, Head of Care at Little Bridge House, said: "Our Narnia sensory garden is an integral part of Little Bridge House and the children and families love to spend time in it and return to it year after year."