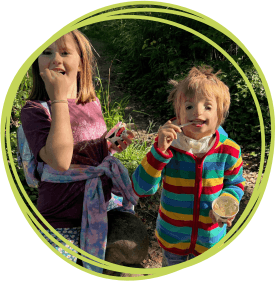 Visits to Charlton Farm enable William to be cared for without worry
Mum, Kate explains why CHSW's local hospice means so much to her family
"William was born with a condition called Treacher Collins. If anyone has heard of the book or the film, 'Wonder' this is about a little boy who has the same syndrome as William.
William has a small jaw so his tongue sits over his airway making it difficult for him to breathe. He has various complexities, such as having a tracheostomy to breathe safely and is hearing aid dependent.
William was born at the Royal United Hospital, Bath but was soon transferred to St Michaels Neonatal Intensive Care Unit in Bristol, where we spent the next 3 months. Shortly after, in William's first year of life we were introduced to Charlton Farm.
Our main reason to use the hospice was for respite. William can only be cared for by people who are tracheostomy trained, just in case he requires a medical intervention. This can mean we are really limited in terms of simple everyday activities such as playdates or even staying with family members. 
When we first visited Charlton Farm, I remember feeling really angry.
I hadn't realised how much I had been carrying with me about the injustice of this all. Why was this happening? Why was this happening to our family? However, as soon as I got there, people were kind without expectation of anything in return or kind for just being kind. It is somewhere where we can go and simply let our guard down.
Our last visit, which was a few months ago, I hadn't realised how tired I was. As a working mum with two children, as soon as I stopped, I seemed to flag massively. The Care Team ensured William and Alex were cared for while I was able to take the time to rest. I think during one visit I had slept for the whole day.
Visiting Charlton Farm has been incredible for us all.
One of the biggest things for me when visiting the hospice is the Sibling Team. They understand the challenges that come with being a sibling of someone who has complex medical needs. As we have to give William a high level of attention, Alex has become a young carer and is a very kind and patient older sister. I am aware she has to do a lot and has never asked to be put in this situation. The Sibling Team are there to give her all of the attention that she deserves. Recently, the team even sent Alex a care package, which we thought was so compassionate. It is incredible to have a group of people who simply put Alex first when we are sometimes not able to; this means an awful lot to us."
This is why we are so passionate when raising awareness, which has helped and will continue to help families like ours to make the most of precious lives.