How CHSW established and developed a model of hospice care for children in the South West …and how it has adapted during the pandemic
A vision and a philosophy of care developed 30 years ago is as relevant as ever today
Lots has changed at our hospices over the last 30 years: we've made improvements to our houses and gardens; developed new services to support children and families; embraced new technology; welcomed and said goodbye to many brilliant members of our care teams; and learned to adapt during a global pandemic. But one thing has remained the same – our ethos to put caring for families at the centre of everything we do.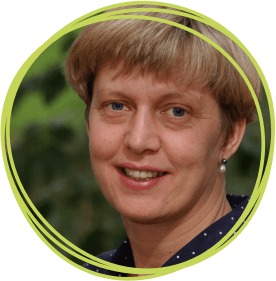 As the first bricks were being laid to build Little Bridge House in the summer of 1994, the building blocks of a care model that still stands strong today were also starting to be put in place. A small advert in Nursing Times caught Mandy Robbins' eye; the recruitment for a 'head nurse' was perhaps the most important in a series of key appointments CHSW would make in its short existence – and the core values of children, friendship and family struck a chord with Mandy.
On September 10, Mandy met up with administrator Jill Farwell and Exeter University research fellow Tricia Nash for a site visit at Little Bridge House, where she was introduced to Jill and Eddie's vision for a children's hospice. Their dream was to provide high quality respite in a home from home setting, where the whole family could stay together and recharge their batteries. In this way, families would be re-energised and more able to continue their caring role at home. Thirty years later, this vision is as relevant and important today as it was then.
Identifying the need
During the visit, Mandy was also shown Tricia's preliminary research findings highlighting the plight of children with life-limiting conditions and their families in the South West. Tricia was carrying out a three-year Department of Health-funded project to document the services – both voluntary and statutory – available at the time. The information she gathered helped establish CHSW's role and led to the development of our model of hospice care for children in the community.
Tricia's research would find that hundreds of children in the South West had life-limiting conditions, and that parents struggled to cope with caring for children at home, with too little support from social or health services. More than half of the parents she interviewed received no respite care. Her report found that families often suffered from a lack of sleep and a fragmentation of family life; siblings felt isolated and there was an increased marital breakdown rate. There was a lack of quality respite provision, and any that was available involved separation from the child, which families did not want. Many families found it difficult to obtain a diagnosis and often felt that news of an eventual diagnosis was given to them in an insensitive way. 
Speaking in 2016, Mandy said: "It was an absolute eye opener to visit the Little Bridge House site and walk around the build in progress. I could see how Jill and Eddie's experience at Helen House in Oxford (the world's first children's hospice) had shaped the design, and that the children and families who eventually visited Little Bridge House would truly benefit from this insight.  
"Even while being built, it was possible to see how Little Bridge House would become a physical embodiment of the CHSW vision. The warmth of the yellow Hamstone, the high quality of the build and materials, the spacious, light and airy rooms, the extent of the family accommodation, and the specialist provision to meet the needs of children with life-limiting conditions.
I came away from the visit feeling very excited at what could be achieved by a dedicated care team in such a well thought out setting.

Interviews took place that autumn and in January 1995, Mandy started work as head nurse, a role later renamed head of care. She was tasked with setting up the service and recruiting the charity's first care team in readiness for Little Bridge House's opening that September.
Recruiting a multi-disciplinary care team
Mandy recruited a 25-strong multi-disciplinary care team to deliver Eddie and Jill's vision and philosophy of care. They would be able to provide one-to-one care, as well as continuity of care, ensuring children would be cared for by someone they knew well and trusted. The team had a range of expertise – not only were there children's nurses, but there were also social workers, physiotherapist, teachers, qualified play staff, carers, a cook and a chaplain.
Mandy said: "One-to-one care is crucial for CHSW's child-centred approach. We are also absolutely committed to seeing each child as a child first and foremost – not to label them by their condition but to help them make the most of their short and precious lives. This meant we wanted to enrich their lives and to provide holistic care that took into account the child's physical, emotional, social, spiritual, play and learning needs – and not just their clinical and nursing needs."
More than 60 children from all over the South West were accepted for care prior to Little Bridge House opening, signalling the start of a region-wide service and the identity of CHSW as a service for the South West. But before the hospice could open, new medicine and child protection policies needed to be written, care plans and medicine charts drawn up, and a referral and booking systems created. No mean feat in the days before email was widely in use. Little Bridge House was registered with the local health authority and open days were held for health, social and education professionals, intended to raise awareness of the needs of children with life-limiting conditions and their families in the South West, with reference to Tricia's research findings. 
Dispelling the myths
"This was particularly important because, at this time, there were very few children's hospices in the UK and there were many misconceptions about what the hospice would be like – only for children with cancer, gloomy and sad places, for example," recalled Mandy.
"Also, there was some opposition to children's hospices in children's health care circles because many people felt that children should be cared for at home. 'The best place for a child is at home' was often said to us, but in reality the best place for a child is where the child and family wish to be. In Tricia's research she had discovered that families did want respite from the burden of care at home and felt trapped in the four walls of home – what they wanted was to be able to re-charge their batteries in a home-from-home environment alongside their child. We had to spend a lot of time trying to get this message across."
The open days also provided an opportunity to encourage referrals and ensure that professionals in the South West knew how to help families access the service at Little Bridge House. The presentation was followed by a guided tour of the hospice and finished with delicious refreshments served by volunteers. Similar open days for the general public, organised by the fundraising team, also proved popular; thousands attended these by the coach load, showing the wave of support the charity had received from across the peninsula.
The new care team started work on September 4, 1995, beginning a three-week induction programme before the hospice opened later that month. Talking about a photo of the original team taken by the entrance of Little Bridge House, Mandy said: "What this photo can't convey is the tremendous energy, enthusiasm and commitment the new care team members threw into every day. They were all rather nervous and apprehensive, but they were thrown right in with a series of ice breaker activities and soon knew each other much better and were far more relaxed.
"We invested a considerable amount of time in team building, as the close working of the new team was going to be essential in establishing a shared vision of care. The care team devised their own philosophy of care one morning – everyone wrote on yellow post it notes what they hoped to see in the service we provided and how they wanted to work together. These were stuck all over the walls and then gathered into themes. Each theme was taken by a small group and turned into a sentence or short paragraph for the philosophy.
Although the philosophy was written in 1995 it has stood the test of time and is still relevant today. 
"The biggest fear of everyone, was whether we would live up to the expectations of Jill, Eddie and the trustees – we could all see how much love, care, attention to detail and effort had gone into setting up CHSW, raising the funds to build Little Bridge House and creating this amazing and beautiful hospice that we had the good fortune to work in. Would we be able to take up the baton?
"In the third week, we invited seven families to come to the hospice for the day so that we could meet them, try out our care plans and use the various facilities. The day was a great success for everyone; the families had a wonderful time and it reassured the care team that they might be able to deliver the care that they aspired to."
Like being wrapped in a comfort blanket
When Little Bridge House opened on Monday, September 25, one of the mothers who came to stay for first week described the experience as 'being wrapped in a comfort blanket'. At the time, children's hospices were still a very new concept and the Barnstaple hospice was only the eighth to open in the UK. So right from the start, the team recognised the importance of networking and working in partnership with other services – in learning from others, and also in sharing what they learnt with others. Mandy visited other children's hospices in the UK to learn more about their philosophy and the care they provided.
"Those early visits were incredibly useful in setting up supportive working relationships with other heads of care, but also in soaking up the atmosphere and philosophy of children's hospices and seeing what worked well for children and families – it was very different from the hospital environment where I had worked previously," recalls Mandy.
These early networks provided the roots for the national links which led to CHSW being a founder member of the Association of Children's Hospices (now known as Together for Short Lives), with Jill Farwell being the first chairman of the management committee of ACH. And the regional links with other children's palliative care providers in the South West eventually led to CHSW becoming a founder member of the Children's Palliative Care Network for the South West. 
Fun, laughter, tears and new friendships
In our Summer 1996 newsletter, Mandy wrote about her first year at Little Bridge House, describing it as 'one of the most satisfying' of her nursing career. She wrote: "When I started in the post of head nurse at Little Bridge House it was the middle of a wet January. Although the building was beginning to take shape, it looked like a ship marooned in a sea of mud. Now, just over a year later, there is a thriving family atmosphere and Little Bridge House has a 'lived in' feel, which the families say is very welcoming and puts them at their ease. 
This year has been one of the most satisfying of my nursing career, bringing with it fun and laughter, tears and sorrow and so many new friendships.
"It has been a year of variety, posing challenges, but also bringing enormous rewards and a sense of tremendous goodwill from all our supporters. 
"Recruiting the care team was a daunting task; we had to find 25 people from a range of professional and personal backgrounds who would make our philosophy of care a reality. We are fortunate to have selected a totally committed team of people who have created a home from home that so many of our families eagerly anticipate as a haven to which to retreat. 
"We all feel privileged to have the opportunity to be with the children and families and offer them support. The house rings to the sound of children enjoying the many activities we offer. Little Bridge House is as much about living as it is about dying, and for children, living is about playing and making the most of life. It is humbling to see what an enormous difference a simple transaction of friendship and care can
make to families who were previously overwhelmed with the pressures of care and isolated from their usual support networks."
Huge demand for respite stays at Little Bridge House led to the opening of CHSW's second hospice, Charlton Farm, near Bristol, in April 2007. And in December 2011, Little Harbour opened in St Austell, Cornwall, meaning that no matter where families live in the South West, children's hospice care is available within an hour-and-a-half drive. All three hospices are forged from the same philosophy of child-focused care that families tell us they love and want. And when Mandy retired in 2017, Allison Ryder, a lead paediatrics nurse at Dorset County Hospital NHS Foundation Trust, joined as our director of care to ensure a continuation of that philosophy.
Care continues during pandemic
Today, our hospices support more than 500 families across the peninsula. And in 2020/21, the care philosophy has stood resolute for 30 years has been challenged in a way that no-one could ever have imagined. In the wake of the global coronavirus pandemic, we have adapted our care model to ensure Covid-safe support wherever and whenever families need it, including in the hospices, and for the first time ever, in families' own homes.
Allison said the lockdowns had brought many new and often terrifying challenges to families, many of whom have seen care packages fall away and their wider support networks disappear in the wake of the global pandemic.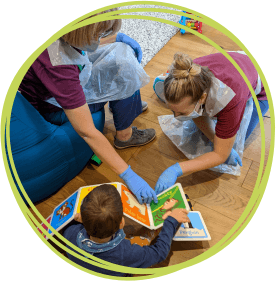 She said: "The pandemic has been extremely challenging but I am pleased to say we have not closed for a single night during Covid. Although we had to take the difficult decision to pause routine respite stays, we have remained open to emergency, resilience and end-of-life care and symptom control. Our hospices are looking very different at the moment because we've had to create zones so that families have their own areas where they can be safe in their bubble. But this approach has enabled us to support the whole family, ensuring they can stay together during the most difficult times. 
"In response to the pandemic, we have been providing lots of virtual support over telephone and email, including for siblings and bereaved families. And for the first time ever, we are now supporting children in the community to ensure we continue to reach as many families as possible and keep them safe at home. It has been an amazing transformation in our services and a tremendous challenge for the team. Just as 30 years ago Mandy's team had to write new policies and train the team, in 2020 we found ourselves doing the same to ensure we could meet the needs of children and families. 
"Our staff have been amazing, working in such different ways and in difficult circumstances, often wearing uncomfortable PPE for long hours. But what has been incredible is the positive approach every member of team has taken, how they have embraced change and the resilience of our families."
It's a completely different way of working for us but our model of caring for children wherever they are, whenever they need it most – whether that be in one of our hospices, in their own homes, or virtually over the phone or by email – is here to stay.
Allison said she was also proud of how CHSW care teams have been using their skills and expertise to support the wider NHS in a number of ways during the pandemic.
Supporting the wider NHS
"While the priority will always be children needing emergency care, those who are really struggling and families who need that emergency resilient intervention, our staff have been incredibly flexible and responsive in maximising their skill set and experience to ensure that healthcare remains operational and accessible to all children and families and the wider community," she said.
"Things are tough in the hospitals at the moment; there are an overwhelming number of Covid patients needing care and maintaining safe staffing is a real issue. The ask is very real so it's only morally and ethically right that we respond to that mandate we've been given to call to support."
CHSW care teams have been able to free up vital hospital beds by supporting admission avoidance and early discharge for children where it is safe to do so. The hospices have offered their support to the Covid vaccination programme, and staff from all three hospices have worked with St Peter's Hospice in Bristol to assist with end-of-life care in the community for adults. 
Allison said: "Part of our response has always been to help get children out of hospital early if safe to do so. For example, at Charlton Farm we took a child who wasn't known to us but was ready to be moved from a hospital bed. The family couldn't cope at home because of Covid and we were able to step in and support that family; that was absolutely the right thing to have done and we will continue to respond in that way. 
"At Little Harbour, the team has been helping to prevent hospital admission by supporting the Children's Community Nursing Team to do things like tube changes for children who aren't on their case load. 
"We're in discussions with all of the acute hospital trusts to find out if there is another form of support that we need to provide, be aware of or be responsive to. We are absolutely prioritising our children and families and the emergency care that they may need. But it's really important at this unique and particularly precarious time that we have a role to make sure that those who need help are given help."
To keep everyone safe, routine testing is in place at all of our hospices and the Covid systems put in place have been tested, said Allison.
"We have had Covid in one way or another in all three hospices and it's reassuring to know that the PPE we are using, the ways that we're working, and the protocols we have in place are keeping us as safe as possible, and that's something I'm incredibly proud of. Staff are all working incredibly hard to follow and implement the procedures and it is through their seriousness, dedication and support that we have been able to maintain safety and avoid a mass outbreak. We have learnt so much during Covid and will ensure that we take forward the best innovations that have come from this transformation and build on these."
A hopeful energy
Despite the challenges caused by the pandemic, Allison said she was proud to see the vision of family-based care described by Jill as the hospices were created was still shining through 30 years later.
She said: "Our ethos of family-focused care remains the same and all the things we held dear at the beginning, we still hold dear 30 years later. But our three hospice bases will always be our core and we can't wait to hear them filled with the voices of children and families mixing together. So as we move into the spring in 2021, we look with a hopeful energy that the summer will enable us to enjoy what we have all missed the most – welcoming children and families to sit and eat as a family in the heart of the hospice around the dining table sharing stories, laughter and strength together."