Mum Mari explains how Little Harbour helps her family
Stanley Barnes is 4 years old and visits Little Harbour along with mum Mari, dad Ross, sister Willow and younger brother Orson
 Stanley's mum Mari explains their journey with Children's Hospice South West so far….
"Stanley was diagnosed with Sanfilippo Type A, the most progressive and regressive type of the disease, when he was 16 months old. His doctor then referred us to Little Harbour when he was 2 years old. Although Stanley is very able and his needs aren't great at the moment we have started visiting Little Harbour for short breaks and to enjoy quality time together as a family.
Little Harbour is like a second home and Stanley has been enough times that he knows the staff, mealtimes, his room – he really loves it, we all do. For a period of time we were visiting Great Ormond Street hospital every two weeks, this was incredibly intense but coming to Little Harbour meant we could just be a family and do some lovely things together.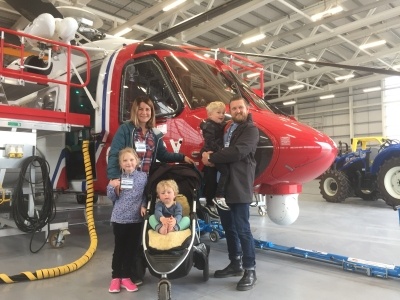 There's just not a lot of support in Cornwall for siblings like Willow but at Little Harbour the Sibling Team are a great support and even when we aren't there the newsletters we receive from them, the phone calls, and the contacts they share are invaluable. It is great to know that there is someone there for Willow, and Orson, as well as for Stanley.
We have used Little Harbour in a few different ways. The children and I stayed for a few days while Ross spent some time doing work on the house making it more suitable for Stanley. On a different occasion Ross and I stayed for a night in a hotel just the two of us while the children were at Little Harbour and then we came back and spent the rest of their stay with them. We just don't get many opportunities like that and we needed that time together. When you are constantly in the throes of dealing with situations you forget what it's like to do normal things and it can put a strain on family life.
The team are just brilliant and it is fantastic knowing that if we are staying over a weekend and Stanley isn't well there will be a Doctor there to help with medication and other things that can become stressful when you are at home.
Two years ago Little Harbour put us forward for a trip to Disneyland Paris run by another charity. It was amazing, all I had to do was have our passports ready and everything else just seemed to be arranged for us. Stanley had a fantastic time, as did Willow and it was just after Orson was born. To have those memories of Stanley being so able and enjoying it so much is wonderful but without the team at Little Harbour we would never have been on a trip like that."