Why volunteering is so much more than just another string to your university bow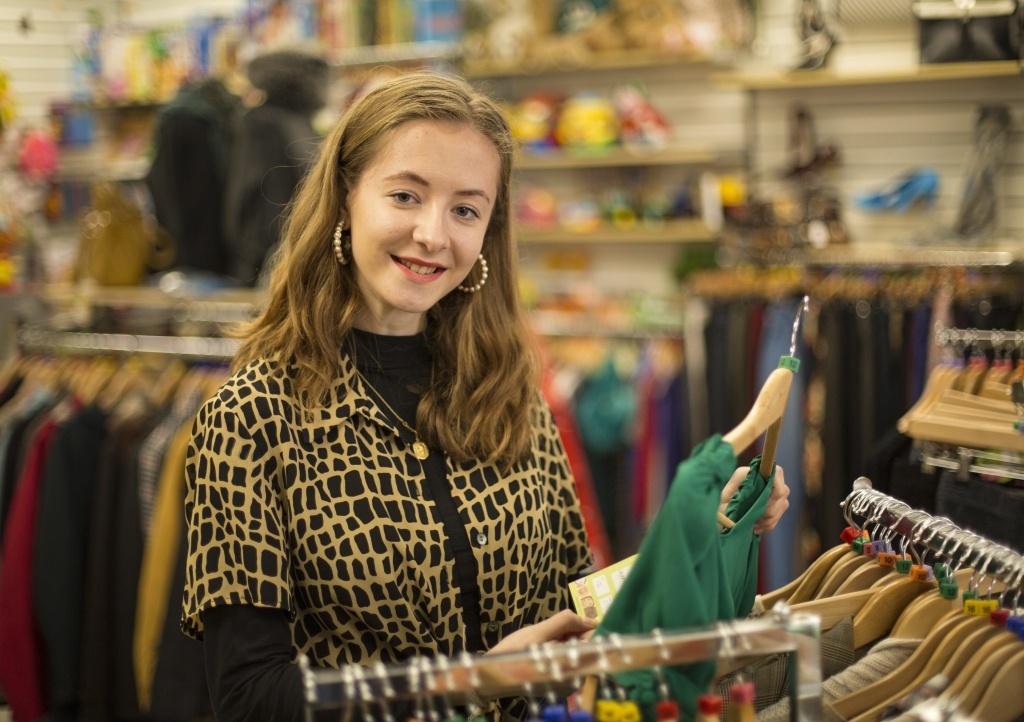 Giving something back offers more than just a feel-good factor. For university students in a new town, lending a helping hand is also a great way to make friends, learn new skills and help their CV stand out from the crowd in a busy jobs market. Volunteering can also provide a welcome break from academia and add an extra dimension to the stereotypical university experience.
To mark Student Volunteering Week 2019, from February 11-17, we spoke to second year Exeter University art history student Niamh O'Riordan-Mitchell about why she volunteers her time at Children's Hospice South West's charity shop in Sidwell Street, Exeter.
It was while walking home from campus one day last October that Exeter University student Niamh O'Riordan-Mitchell spotted a notice in a charity shop window asking for volunteers.
The Children's Hospice South West shop in Sidwell Street had been forced to close early due to volunteer shortages. But in a matter of days, art history student Niamh, 20, was helping to boost staff numbers and play her own part in the work the charity does to support life-limited children across the South West.
"I had never volunteered in a charity shop before but thought I could use my spare time during the week to lend a helping hand," said Niamh. 
"I spoke to Sue the assistant manager about possible volunteering opportunities, filled out a form at home and handed my information in the next time I visited the shop. It was a matter of days until I was able to start volunteering!"
Niamh, from the Thames Estuary in Essex, saw volunteering as a way to get to know Exeter, as well as an opportunity to help others.
"As an Essex girl, volunteering at the charity has allowed me to learn more about the West Country and the great charity work that goes on; on a more personal level than say a national charity.
"Exeter has welcomed me and is now my second home.
Through volunteering, I feel more part of the community as I chat to people who come into the shop, as well as the other lovely volunteers who I now call friends.
"It has allowed me to have a break from reading academic papers, and at the same time be part of a new community of people," she added.
"Sometimes being at a university, I miss being able to interact with different age groups such as younger children or older adults. As a volunteer, I have met people who are younger and older than me, which allows me to talk about different things and hear other people's stories."
Niamh volunteers two days a week on a Monday and a Wednesday for a few hours each day. She was able to choose the times she wanted to volunteer to fit around her university timetable and studies. Her work at the shop involves sorting donation bags, steaming and pricing donated clothes, putting them out on the shop floor and dressing the shop window. She also uses the till to serve customers.
"Any work experience or volunteering is useful to your future and your career, as it opens other doors to life through working with others individually or in a team," she said.
"I have learned how to work in retail, prepare clothes to be bought and loved, handle money and price items. I get experience of interacting with other people through persuasion, negotiating a price, assistance and information. I am also given a responsibility to represent the charity and raise money for its causes."
Asked which one word she would use to describe volunteering, Niamh said 'warm'.
Whenever I volunteer, I feel appreciated and loved by those I volunteer with.
"The conversations we have, and the laughs, are all part of growing up and life. The best thing about it is the social element of talking with people from the older generation. I know that they enjoy talking to younger people being able to listen to their stories and spending time with them. It's a lovely friendly environment and I have made new friends; young and old.
"Volunteering with Children's Hospice South West is a privilege; being able to serve others and to help those with greater needs than my own. Reading about what the charity does for terminally ill children and their families inspired me to help and give back.
"I enjoy being able to raise money for the charity and meet new people. Additionally, with all the fast fashion consuming our wardrobes, it's nice to be able to promote the reuse, recycle and re-wear idea! You do not always have to go to the high street shops to buy something new every time you go out. By buying something in a charity shop you are saving a small part of the environment."
Niamh also has a part-time job with the Salvation Army and is a co-project leader of student initiative Provide a Pad, which collects sanitary products to be distributed to the homeless. During her first year at university, she was a volunteer dog walker and spent time with primary school art pupils. While in secondary school, she did some work experience at AGE UK.
She hopes to go on to study an art history or public history master's degree, and after university, run outreach programmes for art galleries and museums to encourage and promote arts education.
Niamh said volunteering was not just another string to her bow, but an important part of the university experience as a whole.
"I think employers do look for people who have prior experience as a volunteer as it is a decision that the student has taken consciously on their own, using their own initiative. It demonstrates that you see the importance in helping others.
I would urge students to really consider volunteering as part of their whole university experience.
"It allowed me to feel part of Exeter's community and interact with local people who really care for Exeter. From someone who's home is more than four hours away, I feel relaxed and comfortable in Exeter now as I have been able to fully integrate and not feel as homesick as before.
"If you are ever bored or tired of the stereotypical university experience that you may be sold, volunteering is something completely different and it also makes a difference."
To find out more about volunteering roles at Children's Hospice South West, visit our dedicated volunteer page.