Staff from Barnstaple engineering firm saddle up for children's hospice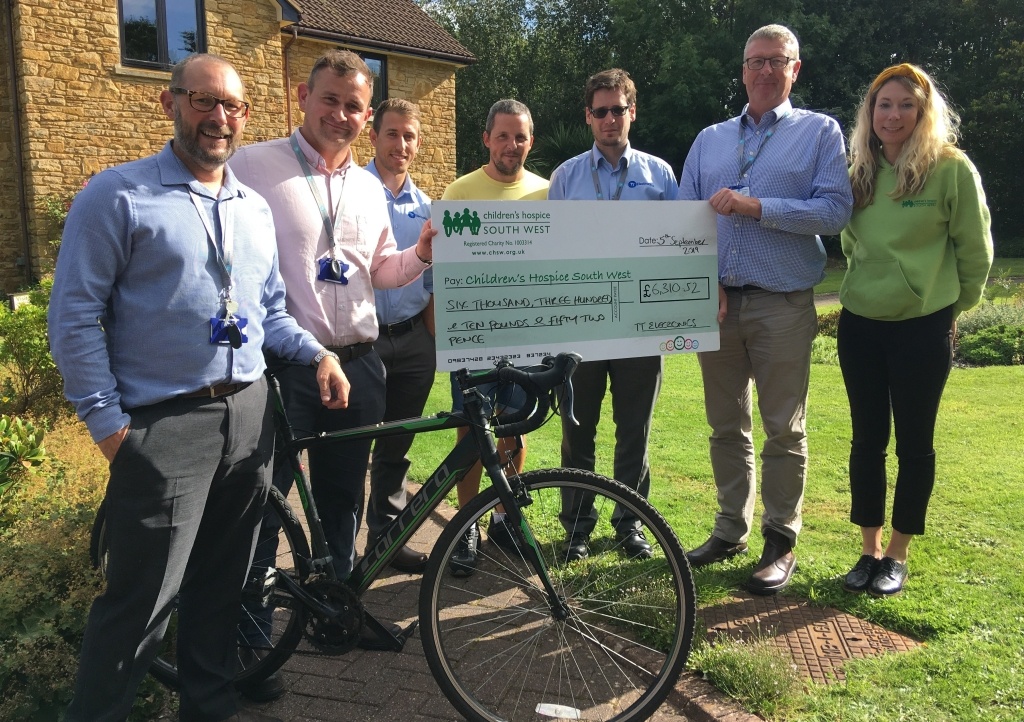 A team of amateur cyclists from TT Electronics in Barnstaple has handed over a huge fundraising cheque to Children's Hospice South West (CHSW).
Six members of the Roundswell-based engineering firm have been pounding the pedals this year to raise £6,301.52 for the charity's Little Bridge House children's hospice in Fremington.
They spent many months training and fundraising before taking part in July's annual Ride for Precious Lives cycle challenge, a 205-mile three-day ride that called in at CHSW's three children's hospices in Cornwall, Devon and Somerset.
Ben Morris, Shane Rice, Matt Green, Kieran Hodge, Mark Lobato and Mark Chatburn were among nearly 80 riders to take part in this year's event, which started at the Little Harbour hospice in St Austell, and took participants via Little Bridge House, before finishing at Charlton Farm near Bristol. They returned to Little Bridge House this week to present their fundraising cheque to CHSW corporate partnerships fundraiser Mhairi Bass-Carruthers.
Project engineer Ben Morris said it was 'probably one of the hardest things they had ever done' but the team was already setting its sights on repeating the challenge next summer.  
"It was a pretty tough one and there were some big hills in there but we managed to raise quite a lot of money for a great cause," said Ben, who only started cycling last year and said he did around two months of training in the run up to the event.
"It was a first for everyone and some of us only started cycling recently but it was a brilliant event," he added.
The atmosphere, organisation and support from the children's hospice team was unbelievable.
"You get everything you need, from support team to all the food you could think of. There is even a physio.
"Everyone is really friendly, and you meet some great people. The event is great for team bonding, and of course, Devon and Cornwall are stunning, so you see some great places too.
"It wasn't easy, but we'll be putting in our training next year and are planning to go out every week as a team."
The cyclists held a number of fundraising events to support their efforts, including static cycle rides, workplace raffles and a quiz night. Their efforts were also boosted by their employers, who covered their expenses and match-funded their fundraising.
CHSW corporate partnerships fundraiser Mhairi Bass-Carruthers said: "The TT guys have been fantastic supporters and ambassadors of CHSW and the money they have raised, together with the matched donation by their employer TT Electronics, will make a huge difference.
"We need around £10million a year to run our three hospices and rely almost entirely on voluntary contributions to provide vital care and respite for more than 500 families, including 200 at Little Bridge House. We just couldn't do this without such generous support from the local business community."
Next year's Ride for Precious Lives takes place from July 10-12 and registration is now open. Places are limited so book your place today.
TT Electronics team on their bikes for children's hospice