Skydive Completed by St Erth Team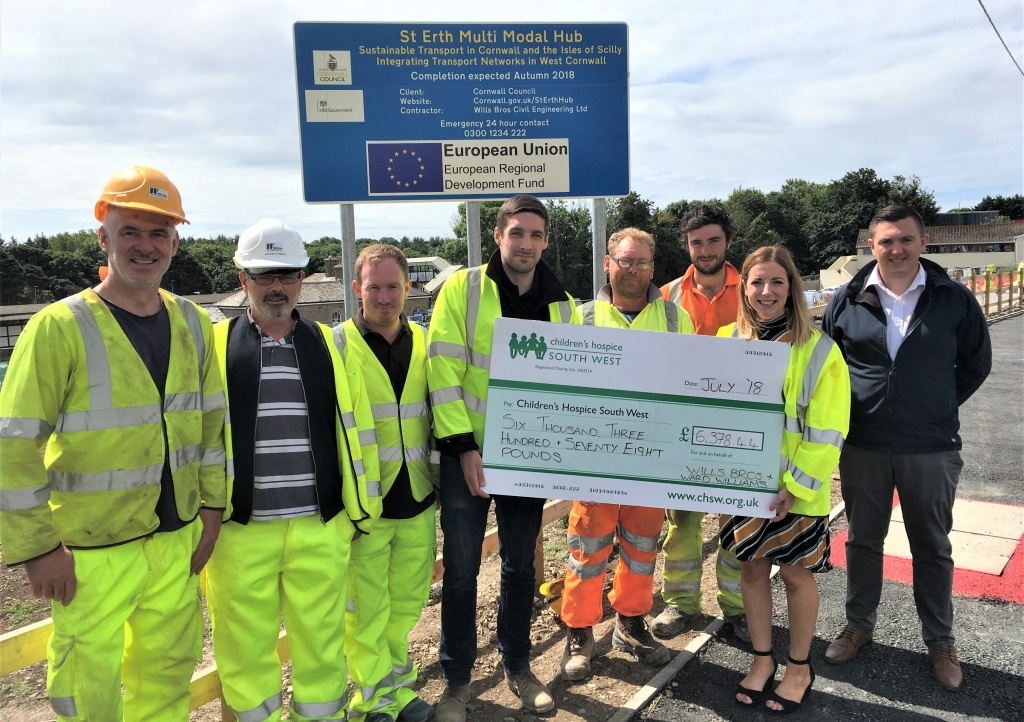 Ten members of the construction team involved with the building of St Erth Multi Modal Hub at the train station in St Erth completed a tandem skydive and have raised vital funds for Children's Hospice South West (CHSW).
The team was made up of colleagues from Wills Bros Civil Engineering as well as Ward Williams Associates who beat their fundraising target of £5000 by raising £6378.44 for the local children's charity. On the skydive team were: Stuart Angus, Kieran Mooney, Anna Kelly, Sean Vesey, David Lynch, Garikai Simango, Curtis Harrold, Seamus Harrold, Kieren Couch & Mick Stephenson.
The team flew out of Perranporth airfield on 19 May and jumped in tandem from 15,000 ft high seeing beautiful views of the Cornish coastline beneath them.
Stuart Angus, Assistant Project Manager at Wills Bros Civil Engineering said;
We were delighted to get such a perfect day for our skydives and all 10 of us really enjoyed the whole experience. Being able to beat our fundraising target and raise such a fantastic amount for Children's Hospice South West made us all incredibly proud!
Bernadette Chambers, Corporate Partnerships Fundraiser for CHSW said "We are so grateful to the team for doing an absolutely fantastic job at fundraising and braving the skydive all in the name of giving something back to the community that they are working in. On behalf of all the children and families we look after, thank you to everyone who supported the team with such generous donations." 
CHSW's Little Harbour children's hospice in St Austell is currently supporting 120 children with life limiting illnesses and their families. The hospice provides short breaks, respite and palliative care and also offers bereavement support to around 30 families from Cornwall and Plymouth.
CHSW has another dedicated skydive Saturday happening on 6 October with a few places still remaining. Alternatively, anyone wanting to jump and raise money for the charity on a different day can do so and arrange booking through the Cornish Parachute Club.
To find out more about doing a skydive to help raise funds for CHSW check our our skydive events or call us at Little Harbour on 01726 871 800.