Rob's virtual around-the-world cycle in aid of children's hospice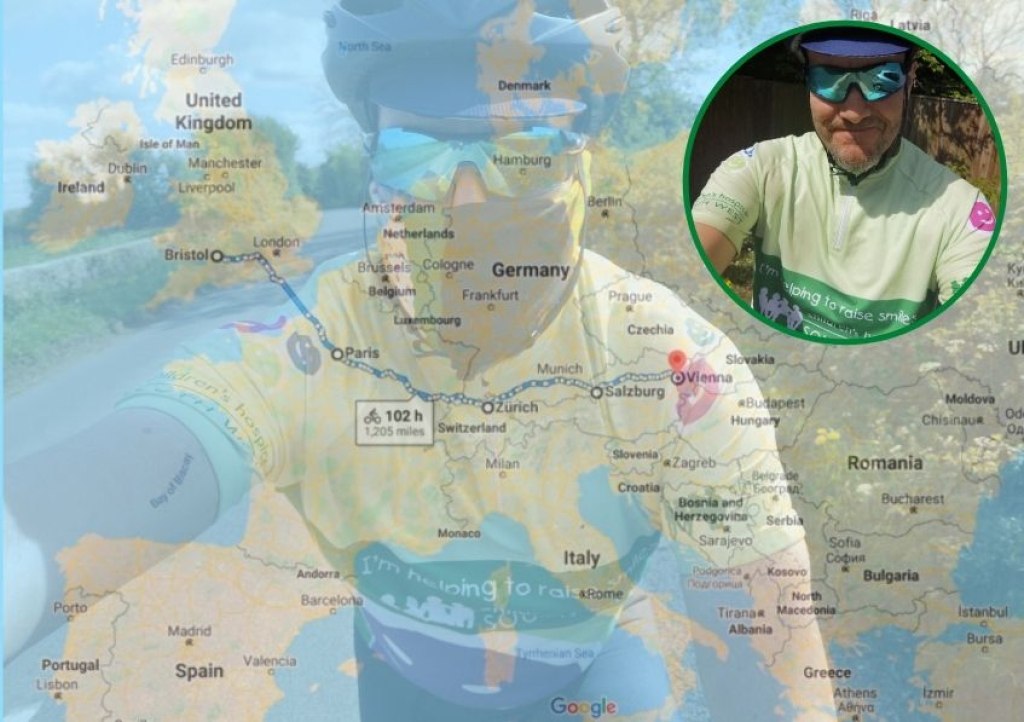 A 52-year-old cyclist from Bristol is hoping to conquer the world on his bike – without actually leaving the country.
Rob Berry from Bradley Stoke has set off on a virtual 22,187-mile cycle of the globe in aid of Children's Hospice South West's (CHSW) Be Incredible fundraising appeal.
He started his Lockdown V-autour de Monde on March 26 and has already 'reached' Moscow covering a staggering 2,600 miles. His planned route will take him through Europe and China and onto Japan, crossing 6,828 miles of the Pacific Ocean to California, before heading across the USA and the Atlantic Ocean to Dublin and back to Bristol.
Rob, who is actually cycling on roads around Thornbury and Wotton-under-Edge, said: "I'm obsessed with cycling and like to get on my bike every day for exercise during lockdown so I thought why not put it to good use and raise some money for an incredible charity?
"I'm cycling an average of 37 miles-a-day so it'll take me a while, but all my other charity challenges have now been officially cancelled for 2020 so this is my main priority now.
CHSW is very close to my heart and every penny raised will make a massive difference to the families they support.
After having to cancel or postpone many of its fundraising events due to the Covid-19 lockdown, CHSW is asking supporters to Be Incredible and do 'whatever they can, however the can' to stand with the children and families the charity supports.
Rob, a quantity surveyor at Persimmon Homes, took up the sport in 2011 to raise money in support of a friend who had a brain tumour. He has since done a number of charity rides to support CHSW, which runs the Charlton Farm children's hospice in Wraxall.
He has taken part in the charity's Ride for Precious Lives for the last two years running and will be taking part again in this summer's rescheduled event in May 2021. Rob and friends also supported the charity in 2018 by taking part in the London to Paris Bike Ride. 
He is inviting others to 'join him' on his round-the-world journey by donating their own miles to help him reach his 22,000-mile total.
"If anyone want to join me on my virtual travels by cycling, running or walking, please just donate 10p-per-mile for your activity and log the mileage donated in your message," said Rob, who is cycling solo, within his own ability and on roads he knows to comply with the Government's guidance on exercise and social distancing.
Any support to get from Bristol across Europe and beyond would be hugely appreciated – let's see how far we can get!
To donate some miles to Rob, visit his online Virgin Money Giving page.
More ideas about how you can Be Incredible for Children's Hospice South West.