Mums' big thank you to the hospice charity that has brought families together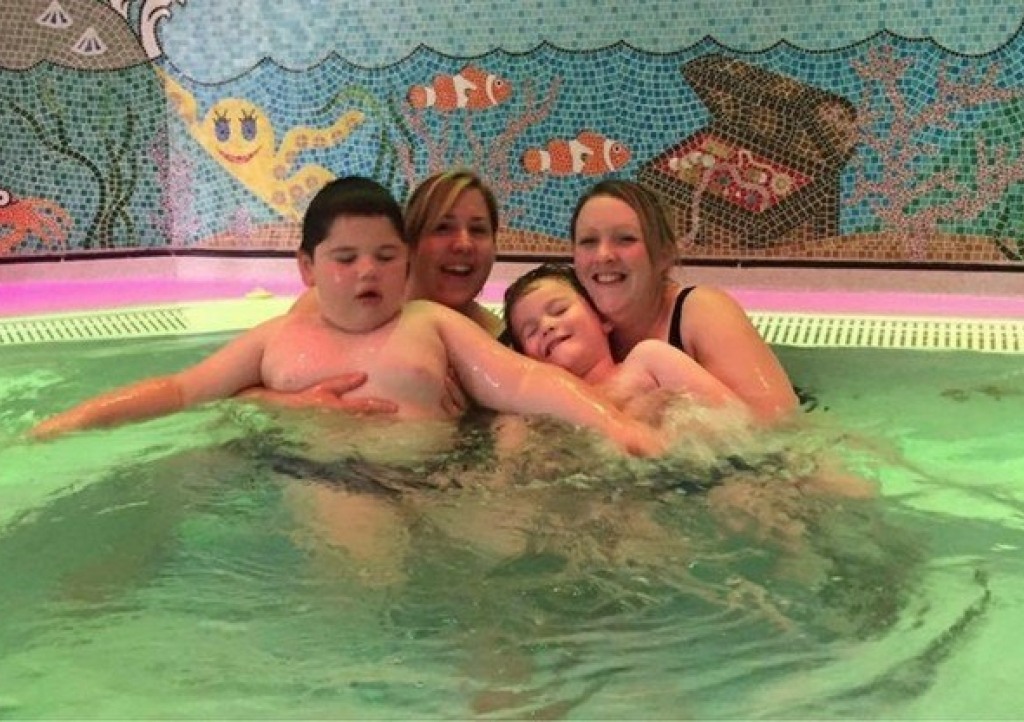 "He's looked after by nurses and has all his very complex needs taken care of and is given all his fluids and medicines. You get a chance to recharge your batteries and get that breather you need to carry on. The hospice has been a massive support.
"Samantha and I tend to do a lot of visits to the hospice together and we can do normal mum things like have a glass of wine, chill out and chat – things we don't get much chance to do otherwise. We get to be mums. Without the hospice we wouldn't survive."
As well as the breaks the charity helps the families by signposting help provides end of life care for the children. Naomi's partner Steve Aldridge and his daughter Dakota also get support from the Hospice.
"The hospice's help means you don't need to worry about what you will do when it probably happens. Without them we would struggle to carry on."
Samantha and Lewis get lots of help from the hospice as do her two older children Daniel, 13 and Scott, 10 and her partner Frazer Considine.
Samantha works as a carer in the community for Somerset Care.
"Charlton Farm is our lifeline," she said. "They are so good. We can get emergency respite care when we need it, as well as the 14 nights a year. They provide end-of-life care counsellors and provide sibling workers for Daniel and Scott, who do so much as young carers. They've taken on a lot of the responsibility of having a disabled brother to look after.
"The hospice gives them the chance to have what a child needs. Daniel's up first every morning, feeds the dogs, fills the dishwasher and helps us hoover the house. They'll both make breakfast and bring us a cup of tea if they find we've been up all night with Lewis and are worn out on the sofa.
"They get rewarded with game-time at home – they can't play on computers or consoles during the week but get four or five hours at the weekend."
The hospice organises sibling days out for Daniel and Scott – days out without all the worries and stresses of everyday life, and has helped them create memory boxes.
"The Hospice gives them the break they need. Their schools have been really understanding and let them have time off in term time so they can come with us to Charlton Farm."
Lewis has to be watched constantly as his body cannot regulate his temperature and can have fits – he is hooked up to a monitor which provides pre warning of a seizure as part of an attempt to wean him off one kind of medication.
He loves going for walks and swimming and really enjoys his time at Fiveways School where the teachers have learned how to communicate with Lewis using musical cues.
"These help him realise what's going to happen next as he can't see. The holidays are the most difficult time as he doesn't get those cues and can get upset," said Samantha.
But we wouldn't change him for the world. He's opened so many doors for us all and opened our eyes to whole world of disability. Before Lewis if you saw someone walking down the street muttering to themselves, you'd just assume they were on drugs or something – now we don't make assumptions like that, you don't stare at people – we'll go up and talk to them and ask that person if they are OK.
"CHSW has helped make a huge network of long-lasting really strong friendships for us. We get together for coffee mornings at Wetherspoons and really support each other.
While Naomi has already organised events to benefit CHSW Samantha has been more involved with providing help by going into schools and talking to children about the hospice and life with Lewis.
"A lot of people don't know about CHSW. It's not really on people's radar," said Samantha.
Their event, Barnfest 2016, is being held on Saturday October 1 at the Marston Inn, Marston Magna. A children's event, admission £5 per family starts at 1pm.
Attractions inside will include a bouncy castle, Bugfest, children's tent, an ice cream van, cakes, hot food and raffles plus much more, so dig deep and have fun.
In the evening there will be more entertainment, with a show from Stevie P and a karaoke and disco.
Admission to the evening event is £3 per person, or an all day family ticket for both events is £10.
Source: Somerset Live