HellermannTyton Handover Donation to CHSW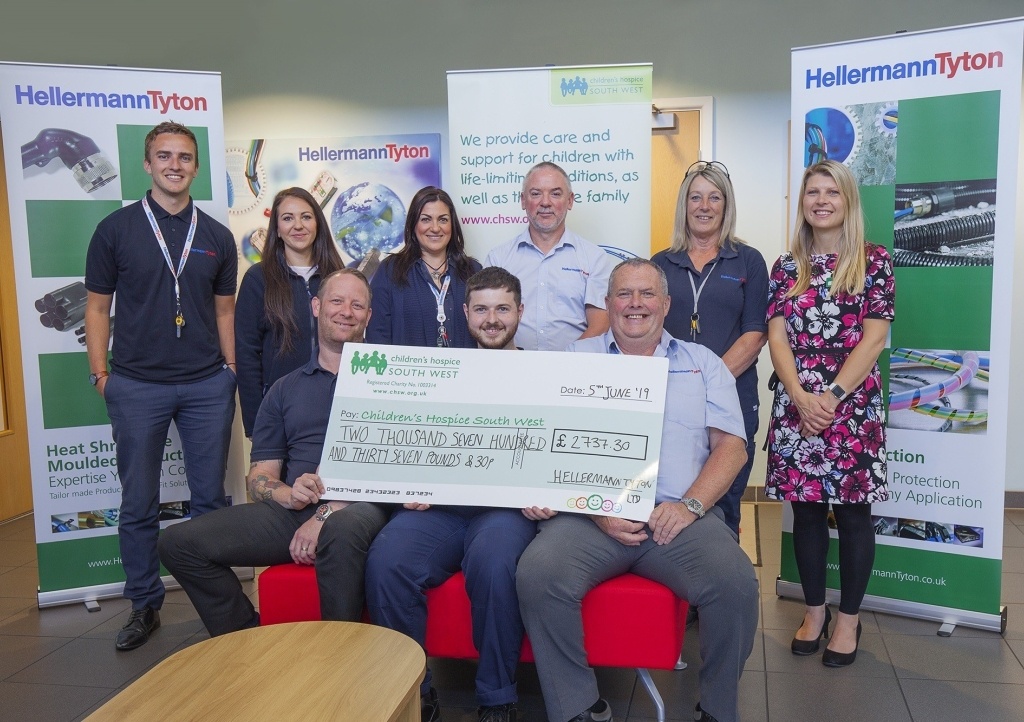 Plymouth based HellermannTyton Ltd, a multi-national cable management business, have recently handed over a donation of £2737.30 to local charity Children's Hospice South West (CHSW).
CHSW was chosen as the charity they would support for a year after a company-wide vote.
Employees at HellermannTyton usually spend their days focussed on making insulation, protection and labels for electronic cabling in ships, planes, trains, cars and buildings. Alongside their work, for twelve months, employees organised and got involved in various fundraising activities including charity football matches, a Christmas raffle, Easter raffle and also the sales of old furniture for donations too.
Ben Ireland, HR Advisor at HellermannTyton also sits on the Social Committee at the company and was involved in a lot of the fundraising activities. Ben said The employees got really onboard for organising and participating in events to help raise money for such a great cause. We hope that the money we have raised will help Children's Hospice South West in any way possible.
Sarah Nuttall-Worsley, Corporate Partnerships Fundraiser for CHSW said "I was delighted to collect this amazing donation from HellermannTyton – what a year of fundraising they have had and we are so, so grateful. We support many families from the Plymouth area so it is fantastic to see a Plymouth business supporting the work we do with families who are from their local community."
CHSW runs three children's hospices in the south west including Little Harbour in St Austell. Little Harbour supports over 125 children with life limiting or life-threatening illnesses from across Plymouth and Cornwall. The children and their families can stay at the hospice for short breaks, respite, palliative care as well as end of life care and bereavement support.
Little Harbour costs over £3 million a year to run so if you think your business could help in any way to support these running costs then please get in touch with Sarah Nuttall-Worsley on 07966 264369 or email sarah.nuttall-worsley@chsw.org.uk