Handmade rocking horse gets new home at Little Harbour
A handmade, oak rocking horse has been donated to Little Harbour children's hospice in St Austell after hours of work by one man creating it from scratch.
John, 77, a retired heating engineer had always been a keen woodworker and on moving to West Putford Holsworthy, eleven years ago met and had lessons from a professional wood turner living in the same hamlet.
Eight years on and John is now a fully-fledged woodturner, who even built his own workshop that he works in, and a member of the Guild of Rocking Horse Makers. John has made 7 horses in total, 5 of which have stayed in the family and get passed down generations, sometimes being restored by John along the way. The first horse that he made 30 years ago, originally for his first grandson Miles, has now been passed down to John's first great-granddaughter.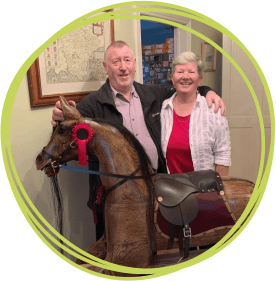 In 2021 John set about making his 7th rocking horse which he made to donate to Little Harbour children's hospice on completion. 
The process of making the rocking horse is a lengthy one, taking the equivalent of 26 days from start to finish.
John explains the stages of making the horse; "The rocking horse made for Little Harbour is created on a Hero design and made out of European Oak cut by a bandsaw then planed and thicknessed. The head, neck and ear pieces are then glued together prior to starting the carving process. The head and all four legs are then partially carved before the full glue up is then carried out. Each glued joint has dowels drilled and glued in for security.
"To get to this stage takes approximately ten days each horse. The carving then takes about six days, sanding, staining and finishing takes about four days and the safety stands take a further three days and fitting out and tacking up about three days." 
John said;
We have been blessed with never having any long term health problems in our family and any of the families of our friends, but have come to the conclusion that there are those unfortunate children that are less fortunate. If in our own small way we can bring some pleasure to them we are delighted to do so.
Nikki Isbell, Deputy Head of Care at Little Harbour was delighted to receive the rocking horse at the hospice just before Christmas. Nikki said; "The children and families will be so excited about this beautiful new addition to the hospice. John's craftmanship is outstanding and we are so grateful for such a generous gift to Little Harbour."
John hopes to make 5 more rocking horses in 2022 which will bring his total to 12. He will then return to woodturning on a smaller scale.
Children's Hospice South West is a charity that runs three children's hospices in the region; Little Bridge House in Barnstaple, Charlton Farm near Bristol and Little Harbour in St Austell. Little Harbour is currently supporting more than 145 local children with life limiting conditions and their families. 
The hospice provides families with opportunities for respite and resilience stays, palliative care, end of life care and bereavement support. Since the pandemic Little Harbour has extended its provision to providing support at the hospice, in families homes and virtually.
To find out how you could support CHSW and its hospices in 2022 simply click here