Exeter family's very special reason for taking part in Rainbow Run for children's hospice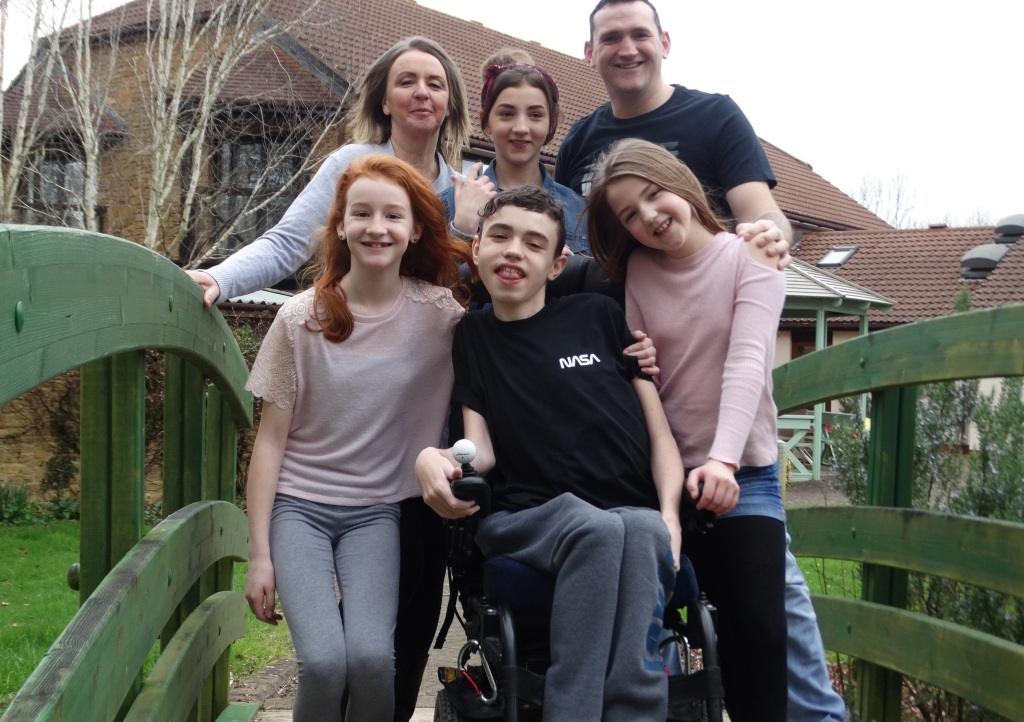 A family from Exeter has a very special reason to be taking part in Children's Hospice South West's Rainbow Run at Westpoint on Saturday, June 22.
Around 1,000 people are expected to take part in the colourful fundraiser and parents Dominic and Caroline Stacey and their four children will also be joining the fun to help raise money for the charity that has supported them for the last eight years.
Their eldest son Dominic, aged 15, has Duchenne muscular dystrophy (DMD), a genetic disorder that causes progressive muscle degeneration. He and his family, from Pinhoe, have been able to take regular respite breaks at CHSW's Little Bridge House hospice in North Devon, time that gives them chance to unwind and enjoy special moments together.
Caroline said the family started receiving help from CHSW after a referral from their palliative care nurse when Dominic was seven years old. It was the first time they had received any hands-on care support.
"The condition affects all the muscles in Dom's body, which means they are gradually wasting," she said.
He stopped walking when he was nine and as time is getting on, he's progressively finding it harder to use his arms and to do anything for himself.
He also has very thin bones and gets breaks quite regularly. He has a feeding tube because eating is quite tiring for him; he did have epilepsy but hasn't had a seizure now for four years.
"But Dom is bright and very funny," added Caroline. "And he's got three amazing sisters who will do anything for him.
"They keep him grounded and don't treat him differently for being disabled. They'll do things like help him take off his shoes and hold his cup of tea and put the straw in so he can drink out of it.
"They are like any siblings though and can fight like cat and dog – but they love each other at the same time."
Dominic, his mum and dad, and sisters – Cate aged 13, Georgia aged 11, and Tahlia aged 9 – visit the children's hospice near Barnstaple around three-to-four times a year.
"They love the games room and messy play and the outside area," said Caroline. "They have so much fun – Dom will be in his chair and they'll be on their bikes just zooming around. The girls once tied a trailer to the back of his wheelchair and they all sat in it going around the garden.
The girls absolutely love the sibling team. For days before they come, they're planning what they are going to do.
A stay at Little Bridge House also means that mum and dad can spend some precious time together, something that it very rare when juggling busy jobs and roles as parents and carers.
"It gives Caroline and I a bit of a break too," said dad Dominic. "It gives us time to go for lunch or just zip off for a few hours to spend a bit of time together, which is so rare."
Rainbow Run is Children's Hospice South West's flagship fundraising event of the summer and will raise vital funds for the charity, which provides free care for more than 500 families like Dominic's across the South West. CHSW needs around £10million a year to run its three hospices, including Little Bridge House, and around 85 per cent of that comes though fundraising. 
Rainbow Run participants run, jog or walk through colourful bursts of powder paint at special colour stations set up around the 5k course at Westpoint. Caroline took part in Rainbow Run two years ago in memory of a friend's son who had died. This year, the whole family, Dominic included, say they are looking forward to taking part in the charity's flagship summer fundraising event.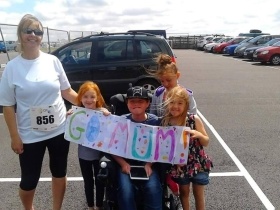 "It's just lots of fun – a really fun day, there's loads of people in fancy dress, all sorts of stalls," said Caroline.
"There is a fun warm-up and you set off and run through these stations where you get paint chucked at you.
There was a great atmosphere and people were really chatty – it's just a really fun day out and for a really good cause.
Online registration closes at 12noon on Thursday (June 20) but anyone aged five and above can still turn up on the day and take part. On the day prices are £30 for adults and £15 for under 16s.
 If you would like to take part in Rainbow Run Exeter ge your ickets before registration closes on Thursday.