Christmas Raffle winner's generous gift to children's hospice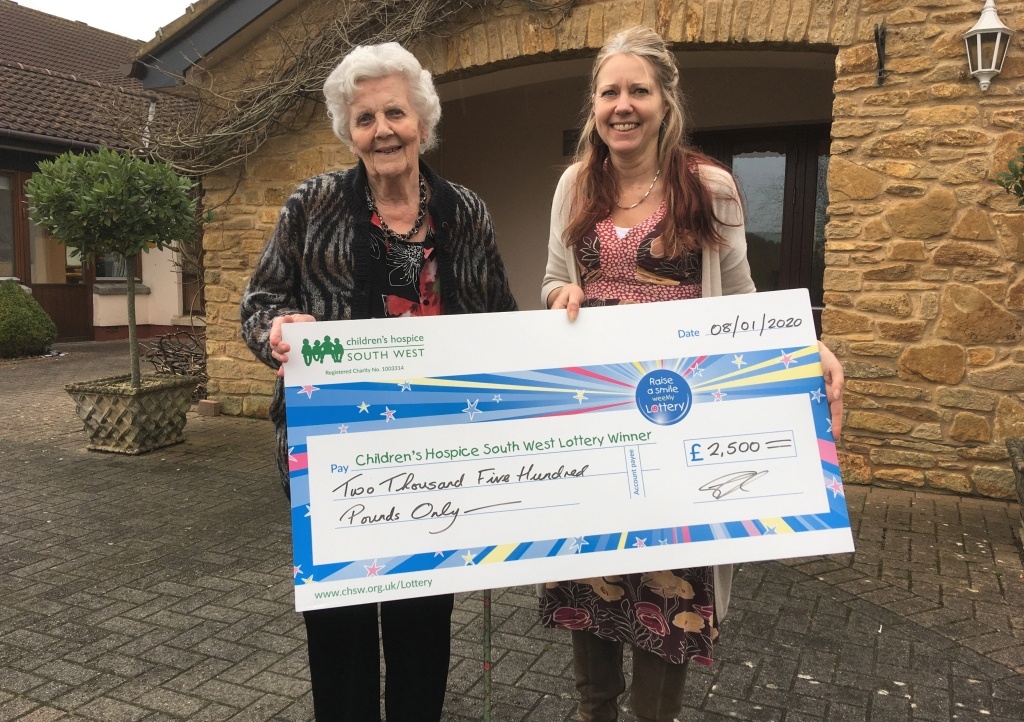 The lucky winner of Children's Hospice South West's Christmas Raffle has handed £500 back to the charity.
Long-time supporter Yvonne Scott, 88, from Northam in North Devon, scooped the top prize of £2,500 in the charity's December draw.
But said she wanted to use some of her winnings to help pay for trips out for children and families staying at the Little Bridge House hospice in nearby Fremington.
Yvonne, who visited the hospice with son Gerry and daughter-in-law Christine to pick up her winner's cheque last week, said: "I've been supporting Children's Hospice South West for many years and have visited Little Bridge House before as a member of the WI.
"It's such a special place and it does so much for so many local families and children – we are very lucky to have it and I am delighted to be able to support the charity.
"It was such a shock to hear that I'd won," added Yvonne, who received a book of raffle tickets with her Children's Hospice South West summer/autumn CHSW newsletter.
"I had just come back from lunch when Stephanie from the hospice called to tell me I'd won.
I couldn't believe it and just sat there in tears, but it was a nice surprise.
Yvonne said she will be using the rest of her winnings to take her family on holiday.
This year's Christmas Draw winning tickets were drawn on December 20 by 18-year-old Grace Hannaford from Topsham, who was staying at Little Bridge House that week with grandparents Loretta and Colin.
The £500 second prize was won by a supporter in Plymouth, and the third prize of £100 went to a player in Helston, Cornwall. The winners have all been notified.
CHSW Lottery Manager Stephanie Charles said the draw raised more than £24,000 for CHSW.
"Thank you so much to everyone who purchased a ticket or helped to sell them – every ticket bought will help CHSW to provide vital support for families facing an uncertain future."
To be in with a chance of winning £1,000 every week, you can play CHSW's Raise a Smile Lottery. Gift subscriptions are also available.