Antler dog chews raise over £200 for charity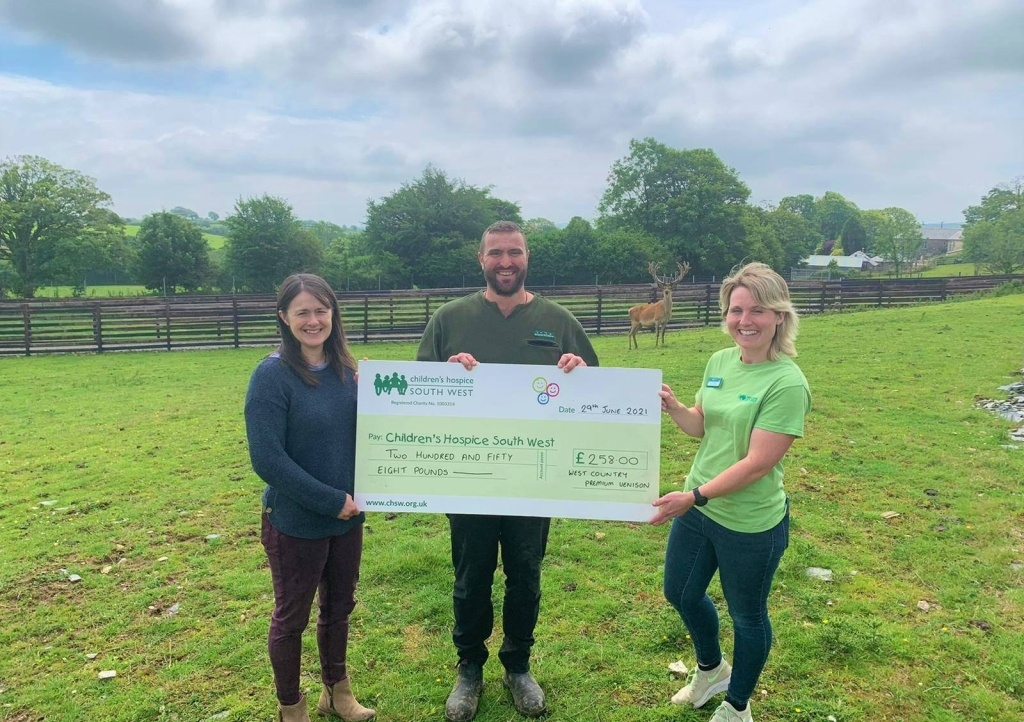 Dog chews made from deer antler have raised over £200 for Children's Hospice South West (CHSW).

As an addition to their butchery in Launceston, West Country Premium Venison also make dog chews from the deer antlers and last Christmas sold them to benefit CHSW. Antler grow back each year so they are a sustainable resource and make the perfect treat for dogs as they are packed with calcium, potassium, iron, zinc and magnesium.

£2 from every chew sold via West Country Premium Venison's online shop as well as other local stockists; Maunders and Sons, was collected to donate to CHSW totaling £258.

Zoe Partridge, Area Fundraiser for CHSW collected the donation from Pip and Matt Smith who own the farm and business. Zoe said
The antler dog chews are such a fantastic fundraising idea; they are sustainable, dogs love them and we are delighted to receive this donation.
Thank you to everyone who has purchased one, shown their support and contributed towards this donation."

Matt and Pippa said "We visited CHSW's Little Harbour in 2016 and since then its left a special place in both our hearts. Being parents we appreciate the support they give to families and to children and given the times we felt this was an opportunity to support this great cause."

Little Harbour children's hospice in St Austell has remained open throughout the pandemic supporting more than 140 children with life limiting illnesses and their families. The hospice costs more than £3 million a year to run so if your business or workplace is interested in raising funds or making a donation to the charity, which is celebrating its 30th anniversary this year, simply call Little Harbour 01726 871800 or click here