Amelie reads over 100 books raising funds for CHSW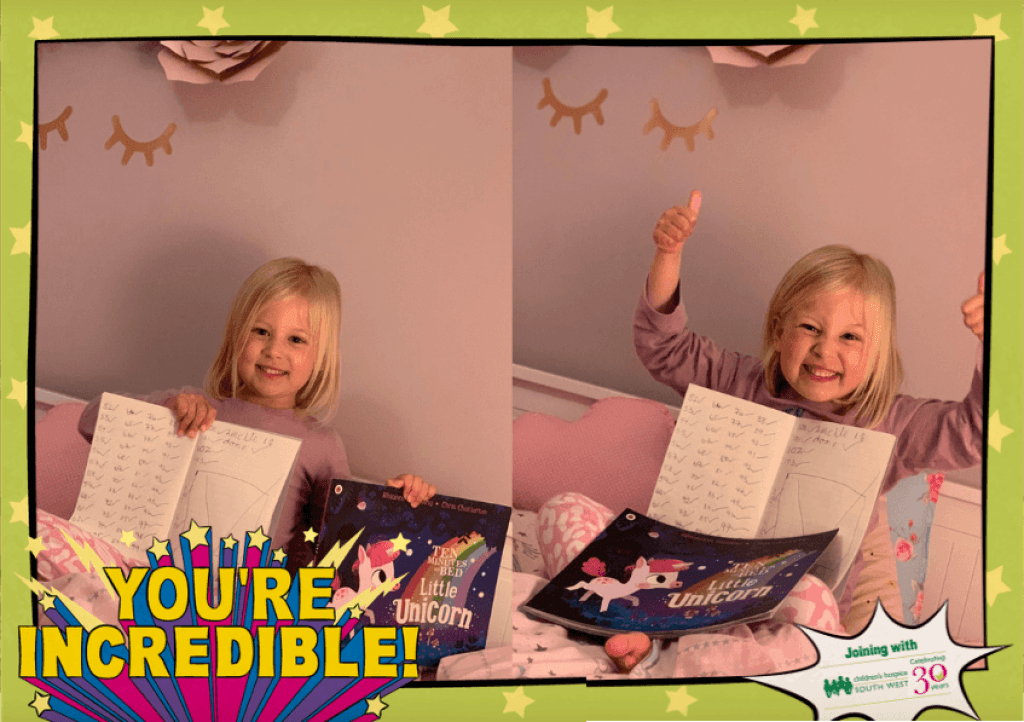 Five year old Amelie Cox from Ivybridge has read 106 books as part of her own charity readathon to raise funds for Children's Hospice South West (CHSW).

After enjoying completing a sponsored readathon so much at her school; Stowford Primary in Ivybridge, Amelie decided she would set herself the challenge of reading even more books at home in a second charity readathon. 

Delighted with her enthusiasm for books and reading, Amelie's parents spoke to her about the work of various charities she could support with her second readathon.  

"We gave Amelie a shortlist of five charities to choose from and it was quite emotional as we read her a little background about each one and watched videos on their work and who they support" Amelie's parents Lauren and Gordon said. 

"When Amelie settled on Children's Hospice South West we were delighted and she told a lot of people!
Amelie said she chose CHSW 'because of the nice things they do for the children and families'.

Setting out to read 50 books in her second readathon Amelie quickly reached her target which she then increased to 100 and then to 106.
Lauren and Gordon said "She ticked each book off as she went along, it took her about four weeks and her favourites had to be 'The Lion Inside' and 'Wee? It wasn't me!' by friend and local author Clare Helen Welsh." 

Reflecting on Amelie's achievement her parents said; "Initially we were obviously proud that Amelie had asked to do her own readathon challenge and that feeling grew and grew throughout the four weeks, with every new book, to an immense amount of pride when she completed it! We think Amelie was very proud too - she even shared her challenge with her class at her weekly 'news of the day feature.'" 
Not only does Amelie have the pride of knowing she has completed her 106 book challenge in just four weeks,  she also raised £50 for CHSW while doing so. 

Amelie's fundraising will go towards care given to children at CHSW's three children's hospices including Little Harbour in St Austell. Little Harbour has remained open throughout the pandemic and supports 145 children and families, from across Cornwall and Plymouth, providing resilience stays at the hospice, as well as home visits and virtual support.

If your child is interested in setting themselves a fundraising challenge for CHSW, or they would like to get involved with a challenge or event being run by the charity, simply click here for more information or call your local hospice (find their details here).