£20,000 Pledged at 10th Moonlight Memory Walk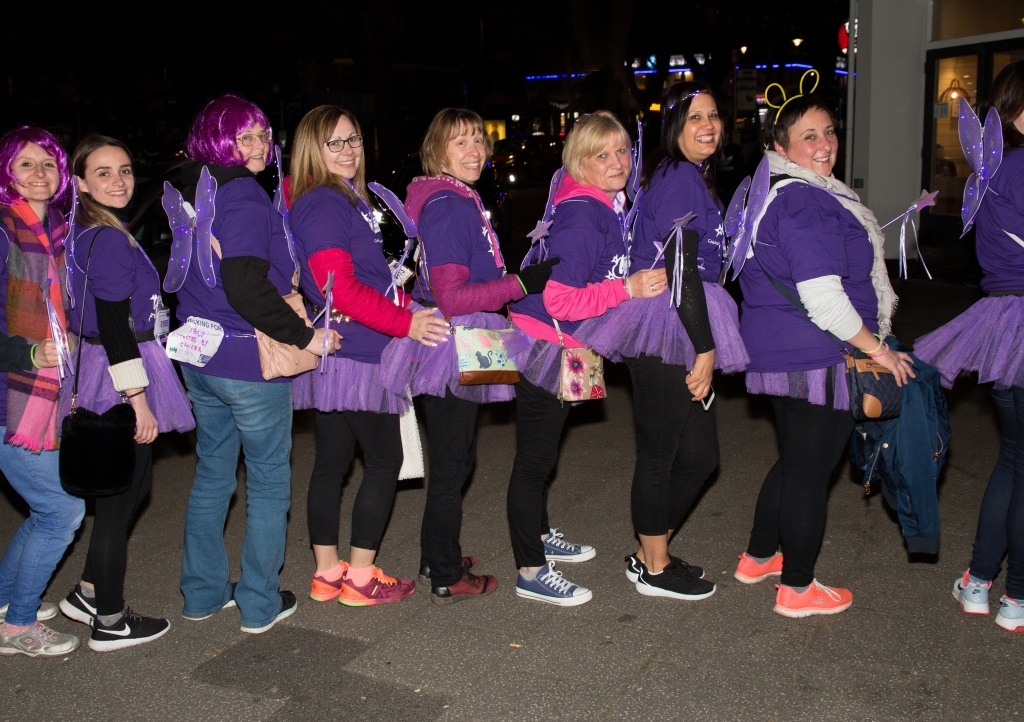 Children's Hospice South West's (CHSW) 10th anniversary Moonlight Memory Walk was held on Saturday 30th March in Falmouth and £20,000 was pledged in sponsorship to the children's charity by the 300 people that took part. 
To celebrate the event's special anniversary this year it was moved to a spring date and was also opened up for men to take part as well as women. 
This year also marked the first year that people could get involved with the event virtually. Some completed their 5 mile walk in their own time and then watched the event through a facebook live broadcast on the night. Others did their 5 miles on the night locally and some further afield with one group walking in London while raising funds for CHSW. 
The evening started with the 300 walkers gathering on the Moor in the centre of Falmouth all donning their purple t-shirts and various fancy-dress accessories including beautiful lights, colourful tutus and wigs. A memory ceremony provided walkers with time to reflect on the lives of those they were remembering on the night.
Participants heard from Eddie Farwell, Co-Founder and CEO of CHSW who reflected on the very first Moonlight Memory Walk in Falmouth, organised as a fundraiser during the Precious Lives Appeal to build Little Harbour children's hospice which is now fully operational. Bereaved mum Rebecca Hele spoke inspirationally about her family's journey with CHSW when their baby Jack died and the support they still receive from the charity. Readings were given by CHSW staff and friends during the ceremony and walkers were also treated to a musical performance by Jamie Hewett. As the clock struck 10pm the 300 strong group of walkers started their 5 mile walk guided by the moon and stars.
Those taking part came from all around the county, one group travelling from as far as Bude to take part after walking in the very first event 10 years ago.
Event Fundraiser and organiser of the Moonlight Memory Walk Kiley Pearce is grateful to everyone who pulled together to make the event the success that it was.
"On behalf of all of the children and families that we support at our Little Harbour children's hospice in St Austell I would like to thank everyone who took part in our special 10th anniversary Moonlight Memory Walk.
This event wouldn't be what it is without the continued commitment and support from all of our walkers. From those who have taken part in every event to those who have joined us for the first time this year – thank you!
I would also like to extend my thanks to the 80 volunteers who gave up their Saturday night to help with the event and to keep everyone safe and ensure a great night was had all around."
Thanks also go to event sponsor Fugro, media partner Pirate FM as well as Cornwall Training and Consultancy, Fal Fire, the Falmouth Hotel, Cornish Tea and Coffee, Tara from Versatile Fitness Choice, Jamie Hewett and the Cornwall Channel.
Money raised in sponsorship by those who took part in the walk will go towards the care and support provided at Little Harbour children's hospice in St Austell which was described by bereaved mum Becky Hele as
the difference between a parent coping and not coping.
Little Harbour is currently supporting over 130 children with life limiting conditions and their families. The hospice gives short breaks and respite with specialist care as well as other activities such as music therapy, physiotherapy and emotional support for siblings. The hospice also provides end of life care and bereavement support.
To find out more about how you can raise funds towards the £3 million needed each year to run Little Harbour simply visit our website or call the Little Harbour Fundraising Team on 01726 871 800.