Tim uses his photography skills to support our vital work
Volunteers play an important role in so many aspects of what we do at Children's Hospice South West. From gardeners to cooks, office helpers to event marshals, shop helpers to bed makers, we have more than 700 volunteers who give their time for free, to help us continue to support children and their families across the South West.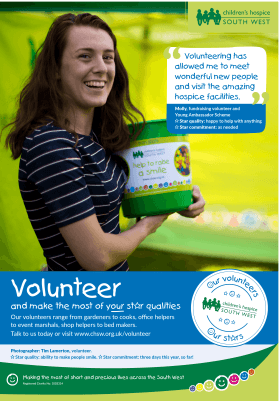 For Volunteers Week in October 2018, we wanted to come up with a photographic campaign that would focus on the individuals and what volunteering means to them, whilst encouraging others to think about which of their own star qualities they might be able to share with us. We felt it was important to make our volunteers the stars of the photos, and we were delighted that volunteers from all areas of our work agreed to share their stories and be photographed for the campaign.

Finding the right photographer, who could make people feel at ease in front of a camera, was vital, and professional wedding and events photographer Tim Lamerton was the perfect person for the job. To highlight even more the diversity of our volunteers, Tim gave his own time for free on two separate days in August and September, photographing 10 volunteers in a variety of settings across the charity.

Tim says: "I volunteer because I love that my photos help the charity to do its work. It's great to meet other people also doing what they love, and to show that in a photograph is a privilege. The professional recognition of my work is valuable to me and I get to improve my skills and learn new ones. I enjoy seeing my work being used and though it's not always easy (how many people really enjoy having their photo taken?) it makes me feel good."
There are so many smiles and it's great fun – what's not to like?