Jess is a paediatric nurse at Charlton Farm
Jess has worked at Charlton Farm for four years.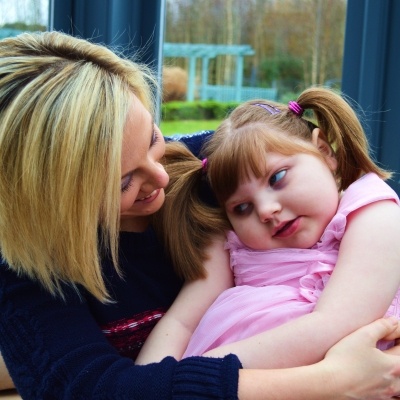 Nursing at Charlton Farm is like no other nursing I have done before. Throughout my three years nurse training and ten years working in high dependency paediatric wards, the focus has solely been on doing everything possible to make children better.
Sadly, this is not always possible. The children and families we care for are facing the devastating knowledge that a life-limiting or life-threatening illness will take their child's life. We cannot tell them when or why, but are here to support them in any way they need.
I meet children of all ages at Charlton Farm. Some that have just entered this world whose stay here will be brief, ranging to those celebrating 21st birthdays!
Four years ago I met a bubbly, chatty, energetic little boy. His presence would radiate through Charlton Farm, bringing smiles and laughter to all around. Arriving for a respite stay, excited to be here, looking forward to fun filled days ahead; swimming in the hydrotherapy pool, bouncing in the ball pool, creating memories and mess in the messy play. 
Four years on a very different picture presents; no longer able to mobilise independently, unable to speak, to express his wishes, feelings and emotions. Unable to eat and drink and relying more and more on medication and nursing intervention for everyday tasks. This decline is heart-breaking to see and reminds us everyday that 'Making the most of short and precious lives' is paramount.
Walking through the doors of Charlton Farm I can never know for certain what my shift may entail. Maybe a trip out to the zoo, a walk in the sun on the seafront, endless games of hide and seek, a pamper session with the teens; these are the fun shifts, made extra special by endless smiles, laughter and happiness from all involved, making special memories and capturing these moments forever. 
However, at the same time as these activities are happening, elsewhere a very different side of nursing may be needed; nursing a child who is reaching the end of their precious life. For these families, they are facing their worst nightmare, except I can't wake them from it, their nightmare is now a devastating reality.
My role now is to make their child as comfortable as possible, setting up and administrating medication to ensure no pain, no discomfort, no suffering, talking to the family, keeping them informed of changes in their child, working together to fulfil their wishes now and beyond.
These are the tough shifts. A time that will be etched in the families memories for a lifetime – I have to get it right, there will be no second chances.
Being in the beautiful surroundings of Charlton Farm with familiar staff, in whom they have faith, trust, and professional friendships enables families to simply concentrate on being a family; reading favourite stories, listening to special songs, enjoying cuddles, and having home cooked food prepared for them.
The one-to-one care we offer the child also allows their parents, if they so wish, to take a break, relax and re-fuel, and to meet others in similar situations in what, at times, can seem a lonely journey.