South Gloucestershire man to run from London to Bristol in just 24 hours
Paul will be pounding the streets during the weekend of 6-7 February 2021 and asking for donations in support of CHSW
Next year Paul Dennett, a father of three from Frampton Cotterell, South Gloucestershire, turns 44 and plans to mark the occasion by running 112 miles from London to Bristol in just 24 hours. Dubbed 'The Long Run Home' Paul will be pounding the streets during the weekend of 6-7 February 2021 and asking for donations in support of Children's Hospice South West (CHSW).

Paul has a history of putting his body on the line for CHSW; a cause very close to his heart. Over the years he has taken part in some gruelling events in support of the charity and raised over £26,700 to date. 

In May 2017, Paul organised and took part in a 3-day ultra-marathon - The Bristol Brutal. This consisted of a 6-mile swim and a 90-mile bike ride on day 1, a 171-mile bike ride on day 2 and a double marathon of 52 miles on day 3. Then, in July 2019, Paul took part in an alternative 3 Peaks challenge - The Brutal 3 Peaks. Along with a group of friends he climbed the 3 highest peaks in the UK, cycling in between each climb. This took 6 days and, as well as the three mountains, involved 665 miles of cycling.
It was whilst out on a long training run for The Bristol Brutal that Paul had the idea to set up a fitness group to serve the local community. Active Soul UK was born and contributes 50% of its monthly membership fees to CHSW. 
Alex Bright, 50 from Emersons Green, is a member of Active Soul and has known Paul for many years. Alex knows only too well the difference Paul's fundraising makes to the hospice as she has been supported by CHSW's Charlton Farm along with son Jack, 13, and daughter, Lotte, 14 for the past ten years.
Alex knows only too well the difference Paul's fundraising makes to the hospice as she is supported by CHSW's Charlton Farm along with son Jack and daughter, Lotte

 

Jack has Pallister-Killian syndrome, an extremely rare, life-limiting illness and requires round the clock care. Described as a 'super-cheeky chap', Jack loves his visits to the hospice, particularly his sessions with the music therapist. Alex said: "Lotte loves it here too. She's always been quite shy and attached to me, but from an early age she would come through the doors and would be off into the dressing up area! I would get Jack settled in and then I'd go upstairs to catch up on my sleep."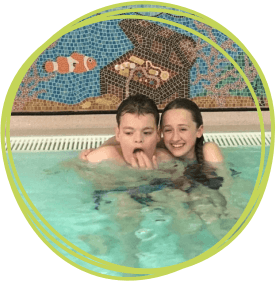 Alex continued: "I've always been clear with Lotte from the beginning about what the hospice is. She knew we were coming because we needed some help and that there would be children there who would be ill and some who would die. Siblings of poorly children often turn into natural carers and that's what happened to Lotte. When we first came to Charlton Farm for respite she wouldn't leave Jack's side, but the Sibling Team have been there since day one. They have a wealth of experience to help her and she listens to them. She values their time and experience and they understand how she feels as a sibling of a child who may not have a long life."

Alex says voluntary donations are vital to keep the hospice going to support families like hers and would urge anyone to donate to Paul's fundraising challenge. "Our wheels would've completely fallen off many, many years ago if we hadn't had the hospice. They have been there through many of life's ups and downs."

Jack is currently at Craig-Y-Parc School – a fulltime residential school just outside of Cardiff - and has been since February this year. Alex said: "I miss jack immensely and it would be lovely to come back to Charlton Farm to stay, but obviously we can't during the pandemic. But I know Lotte can contact the Sibling Team if she needs to talk or needs a listening ear. They are absolutely amazing."
To show your support for Paul's epic challnge, please donate to his fundraising page