Trevor's 44 mile 60th birthday challenge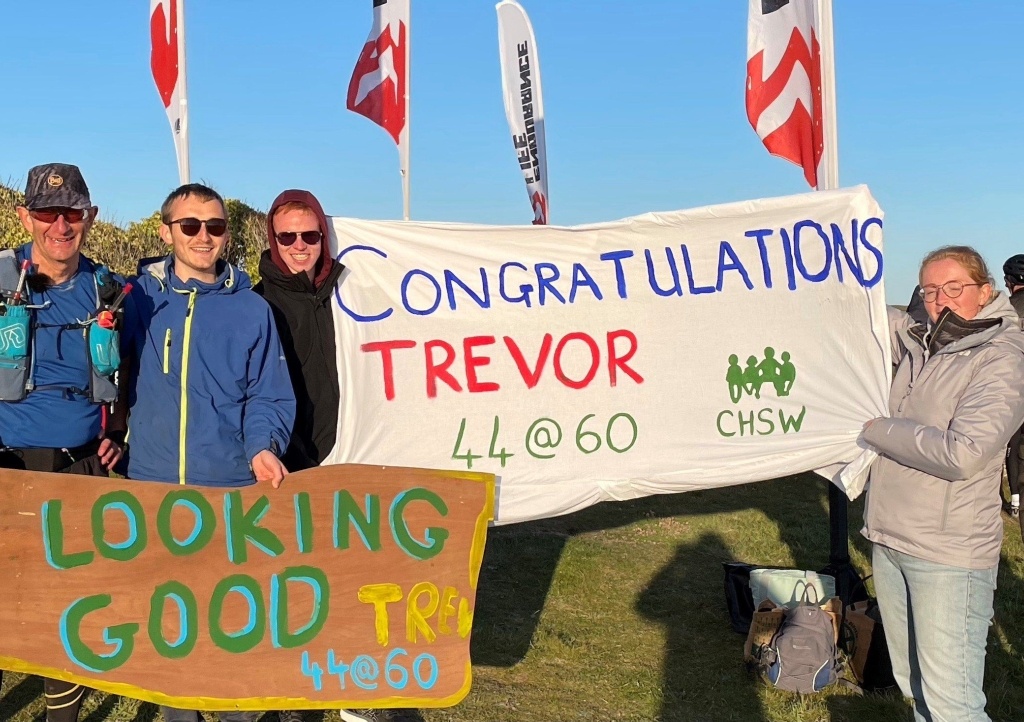 Trevor Lee, a Business Consultant from Truro, not only completed the 2021 Classic Quarter 44 mile coastpath run event to celebrate his 60th birthday, but also raised some serious cash for a local children's charity. 

Trevor set himself the 44@60 challenge back in 2019 when he decided that in his 60th birthday year he wanted to conquer running 44 miles on the Cornish coastpath from the most southerly point; Lizard Point, to the most westerly point; Land's End. This wasn't just a physical challenge though, this was going to be a fundraising challenge too to support Children's Hospice South West (CHSW). Trevor aimed to raise £100 for every mile of the run which would total £4400 for CHSW's music therapy programme.

I wanted to raise money for children and music and once I became aware of CHSW's music therapy programme it seemed ideal
Trevor was a relatively regular runner but training for this event was at a whole new level. In the build up Trevor clocked up 350 training runs and 2285 miles. While training hard he also set about his fundraising, running business masterclasses with the fees going towards his fundraising. He also attracted individual donations.

Trevor said "I wanted to give people some value for their donation hence the business masterclasses - I ran three different ones with some companies hiring me to deliver a masterclass just for themselves. For individuals we offered a course segment for every £10 donated and then had a random draw for a sponsored £75 eating out voucher."

Saturday 22nd May, event day for the Classic Quarter, was 815 days after Trevor announced he was going to take on the challenge.  Weather conditions were good and Trevor followed his detailed plan completing, with the help of his on course crew, the 44 mile run in 13 hours and 30 seconds, tackling an impressive 6290ft of elevation along the way and he came third in his age category. 

"I went to have a big day out and that is exactly what happened" said Trevor.
2 years of planning fell perfectly into place and for me completing was never in doubt, particularly given the incentive to keep running that the fundraising generated.

In the end the fundraising target was well beaten and £100 per mile became £150 per mile and a grand total of £6600 was to be donated to CHSW's music therapy programme.

CHSW has three children's hospices in the south west including Little Harbour in St Austell. The hospices don't just support children medically but take a holistic approach to their care which includes each hospice having its own dedicated Music Therapist. 

The Music Therapy team deliver sessions to children when they are staying at the hospice and throughout the pandemic have also been providing one to one virtual music therapy sessions online to children so they weren't missing out on the sessions even if they were shielding. 
Richard Trethewey, Little Harbour's Music Therapist thanked Trevor by saying; "We are so grateful to Trevor for raising this incredible sum of money to go towards our music therapy sessions.
The potential of sessions knows no limits; from children who are non verbal with very limited movement, to working with siblings and parents too, music can be a powerful tool to offer everybody a way of expressing themselves, finding their own voice and creating cherished memories for the whole family.