Somerset Cricketer James Hildreth raises £11000 for CHSW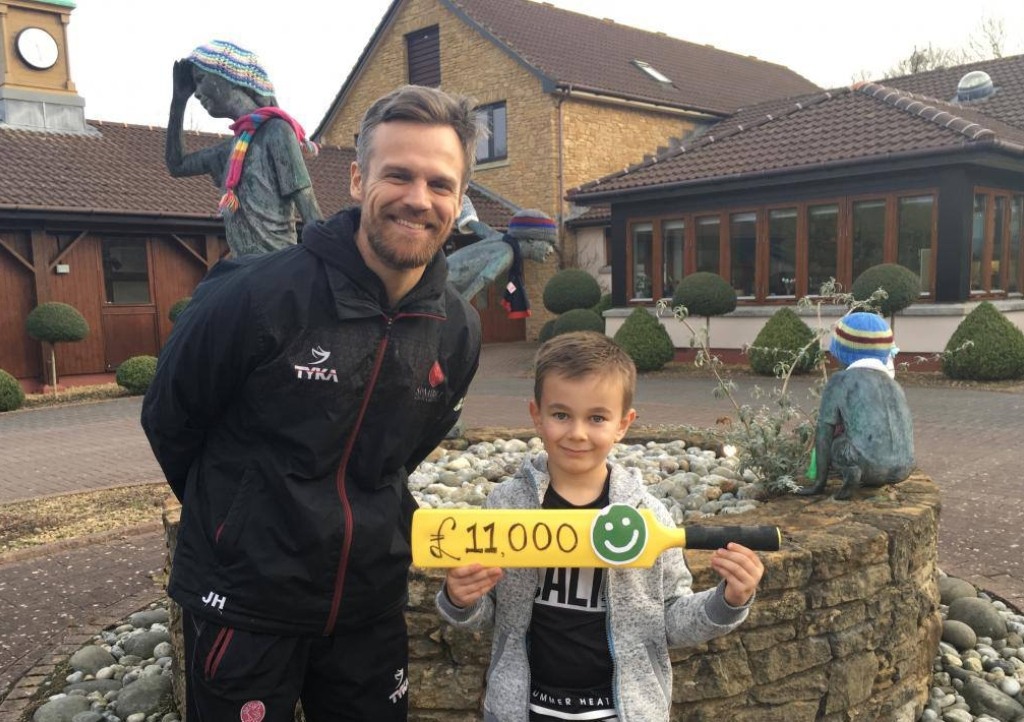 Children's Hospice South West (CHSW) was delighted to have the support of Somerset County Cricketer, James Hildreth in his 2017 Testimonial Year and on Thursday 8 March 2018, he visited the charity's Little Bridge House hospice near Barnstaple to present a donation for £11,000, raised through all his fundraising activities through the year.
James pledged support in his Testimonial Year to the Professional Cricketers Association (PCA), and CHSW, and embarked on a series of fundraising matches and other activities, including the epic 'Hildy's Hospice Hike' which took place in October 2017. The hike involved James and his friends Adam Dibble, Ross Ward and Mark Turner, embarking on an incredible 130 trek from CHSW's Little Bridge House hospice in Devon, to its Little Harbour hospice in Cornwall. The group had to endure horrendous gales and rain, yet still managed to complete the journey.
Eddie Farwell, Chief Executive and Co-Founder of CHSW said: 'We cannot thank James enough for his support over the last year. It was a real privilege to witness James playing at the charity matches in our region and the heroic efforts of Hildy's Hike will not go unforgotten! The support of James and his colleagues has been tremendous, and we really do appreciate all the long hours and dedication that James has given into supporting Little Bridge House and Children's Hospice South West as a whole.'
James said of his fundraising: '
I am so pleased to have been able to support Children's Hospice South West throughout my Testimonial Year and will continue to do so as and when I can. Its hospices do the most incredible work with children with life-limiting conditions, as well as invaluable support to their siblings and parents. I am completely bowled over whenever I visit CHSW and see what a fantastic job they do in caring for those children who have short, but indeed, really precious lives.
This visit to Little Bridge House was a real highlight for Fynn Murphy, aged 7, a cricket fan who visits the hospice with his brother Stanley. Fynn was delighted to meet James and even got the chance to play a few shots with him – albeit with a plastic bat and ball!
Children's Hospice South West is there for families from the point of diagnosis through to bereavement and beyond. The charity currently offers medical care and respite support for over 500 children with life-limiting conditions and their families across the region, and each year the charity needs to raise over £9.8 million from voluntary donations to maintain it services.
To find out more about the range of care and services offered by CHSW, and how you can support the charity, see www.chsw.org.uk