Record Year for the Cholwill's Charity Reindeer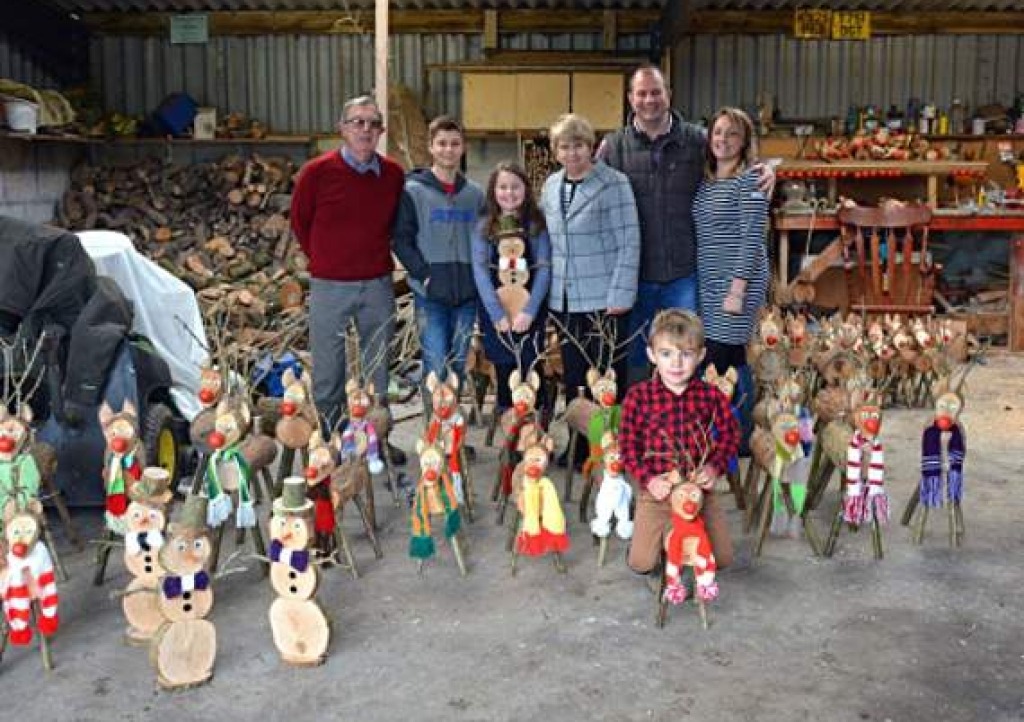 The Cholwill family, from Bridgerule, have now been making their wooden red nosed reindeer in aid of Children's Hospice South West (CHSW) for six years.
Their inspiration for creating this fundraising scheme was through the sad loss of their beloved son, brother and uncle, Mark, some years ago. However, little did they realise that the reindeer were going to be such a popular item to buy at Christmas time for so many people.
Six years ago, Colin made his first red nosed reindeer for a charity that has become very special to the Cholwill family, that of Little Harbour the only CHSW hospice in Cornwall at St Austell, where Sheila volunteers on a regular basis.
In 2012 those that purchased a wooden reindeer mainly lived in the family's village of Bridgerule. Christmas 2018 saw a record 540 reindeer made, with orders coming from all over Devon and Cornwall and quite a few of these orders being delivered to relatives and friends throughout the United Kingdom. One couple, in fact, travelled all the way from The Cotswolds to pick up their reindeer and snowman and returned straight away to their home. Two other baby reindeer travelled by plane to Jersey. On another occasion a mother took one of the reindeer home and her small son insisted he took it to bed with him.
The ladies who so kindly make scarves for these reindeer not only live locally but now come from St Austell, Swindon, Wales and Jersey. Some of them enjoy doing this so much that they are now making them throughout the year. This year the Cholwill family are indebted to a number of farmers for wood. So much so that without them they could not have fulfilled their orders.
The family have been overwhelmed by the support they have received.
At a craft fayre held recently at The Falcon Hotel, 100 reindeer and 25 snowmen took just two hours to sell. The order book this year also had to be closed only a few days after opening because the family felt they would not be able to fulfil them.
The making of the reindeer is special to Colin and Sheila because it is now involving the help of son Paul and daughter-in-law Stacey and the grandchildren Harvey, Ella and Harry playing their part too. They are also grateful for the help of friends Ollie, Bonnie and this year John.
This Christmas saw the remarkable sum of £10,000 being made for their chosen charity. This has also meant that in the last six years these red nosed wooden reindeer, which are all individually crafted making them unique, have raised a total sum of £33,500 for CHSW in St Austell.
The family were delighted to receive this lovely message from Claire Kilbey, head of care at Little Harbour:
The children, families and staff would like to say a huge thank you to Sheila and her family for their incredible ongoing support in fundraising for Little Harbour.
"They have been making and selling their beautiful wooden reindeer and snowmen over the last few years and have raised an amazing amount of money that enables us to provide much needed support and care to children and their families in our beautiful surroundings.
"We are always overwhelmed at the generosity that we receive, which helps us to make a difference to short and precious lives. You truly do an amazing job and we are so grateful for all that you and your family do for us."
The Cholwill family expressed their thanks to all their lovely supporters adding that they hope their Christmas reindeer bring much joy to their recipients wherever they are.