Kingsmans handover £6000 Donation to CHSW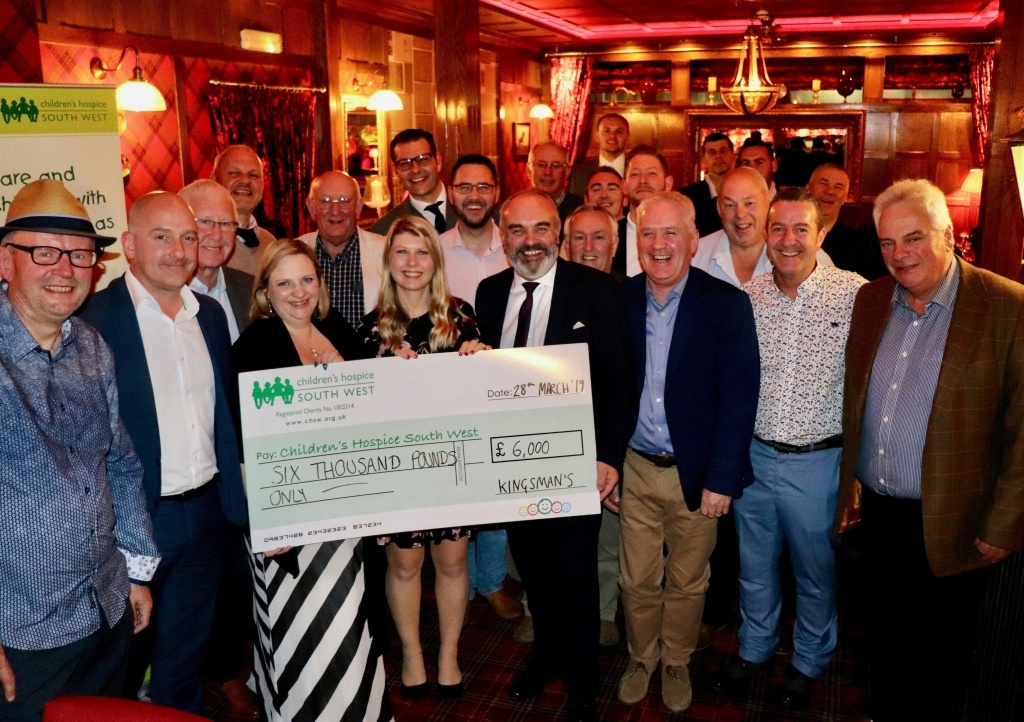 Staff from Children's Hospice South West (CHSW) were delighted to receive a donation of £6000 from Plymouth group the Kingsman.
The Kingsmans group was set up to offer men a social dining group which wasn't specifically about networking. The Kingsmans started meeting once a month at Charlie Franks restaurant where members would enjoy a meal and form new friendships and contacts with others from around the city. The group has now reached 75 members with between 30 and 40 members meeting up each month.
David Barrett, local businessman in Plymouth explains how the Kingsman has grown and how they raised the donation for CHSW;
"We are a group of men that love to eat, drink and have a chat and that is what we do once a month at different restaurants. It's not about networking, it's about socialising with people from your local community. There are so many different characters in the group from so many different walks of life but the friendship and comradeship which has formed from the group is quite amazing to see."
Last November the group set out to raise £1000 for Children's Hospice South West (CHSW) which runs three children's hospices in the region including Little Harbour in St Austell which supports families from Plymouth and Cornwall.
David explained
As soon as we mentioned we wanted to fundraise for Children's Hospice South West members of the group were so supportive and donations started flooding in. Very quickly we hit the £1000 mark and just kept going. We ran an auction which proved really popular and basically within a month we had raised £6000 for the hospice some of which was match funded by Santander – the buzz since has been phenomenal.
Sarah Nuttall-Worsley, Corporate Partnerships Fundraiser for CHSW said "The Kingsmans are such a lovely group of guys who have handed over an incredibly generous donation of £6000. We are so grateful for their support as we rely so heavily on donations from the local community to keep Little Harbour running."
Little Harbour costs around £3million a year to run and is currently supporting over 120 children with life limiting and life-threatening conditions, as well as their families. The hospice predominantly provides families with short breaks and respite as well as end of life care and bereavement support. Little Harbour offers a home from home for families where parents can hand over the medical responsibilities and simply enjoy precious time together making special memories.