Former county cricket club chairman launches £26k London Marathon fundraiser for children's hospice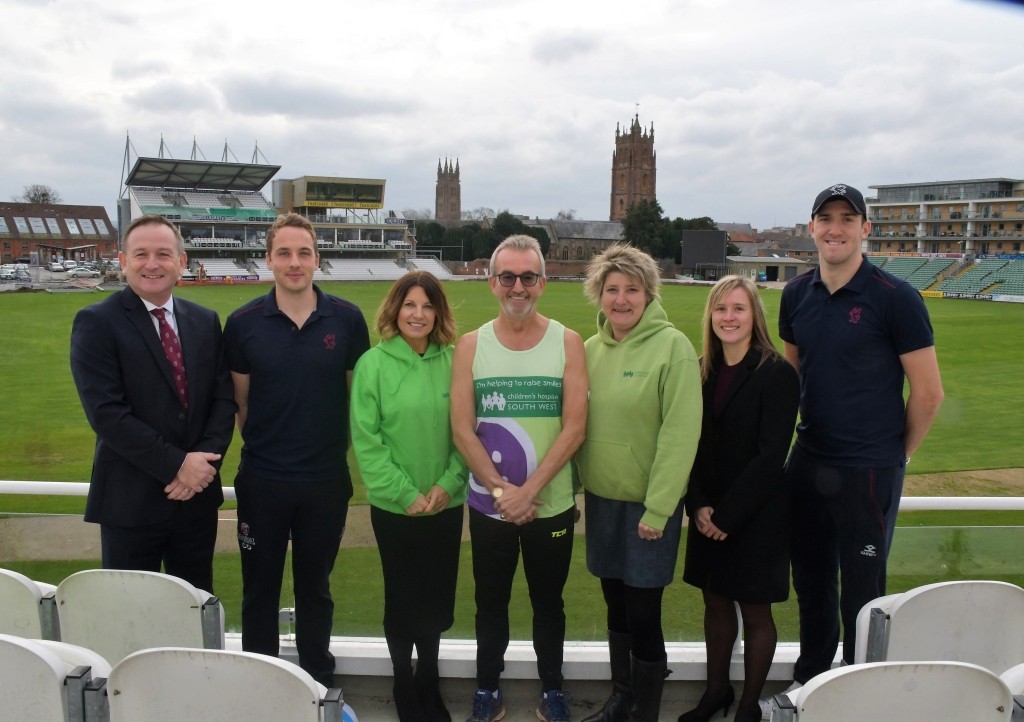 The former chairman of Somerset County Cricket Club is set to run the 2019 Virgin Money London Marathon in aid of Children's Hospice South West.
Andy Nash, who retired in January this year after 14 years at the Specsavers County Championship club – 10 of which he served as chairman – will join Sir Mo Farah and a cast of thousands of runners in the world-famous road race on Sunday, April 28.
He hopes to raise £26,000 – £1,000 a mile – for the charity, which provides hospice care for hundreds of children and their families all over the South West.
Andy, who is also a former director of the ECB, declined the offer of a traditional retirement lunch and instead, asked former colleagues at the Taunton club to support his first ever marathon attempt.
He kicked off his six months' training by running the London Royal Parks Half Marathon on October 14 and returned to the Cooper Associates County Ground today (Thursday) to officially launch his fundraising campaign. He was joined by Somerset CCC CEO Andrew Cornish, players Sophie Luff, Josh Davey and Craig Overton, and Emma Perry and Tracy Harvey from Children's Hospice South West.
Andy said: "It's traditional for the club to mark the service given by a retiring senior officer but rather than add more inches to my waistline with a dinner, I thought I'd try to lose some instead by running the London Marathon for a great cause.
Community relations are of the greatest importance to SCCC and the club has had a long association with CHSW, with many fundraising events by the club and players.
"It's a privilege to have an opportunity to do my bit for a cause that does such terrific work in Somerset, Devon and Cornwall at their three hospices. I should like to thank Somerset County Cricket Club for their generous offer of supporting me in this quest."
During his time at the club, Andy helped transform the County Ground, which now regularly hosts international games and will stage ICC Cricket World Cup matches next year, including a match between Afghanistan New Zealand under the new LED floodlights currently being installed.
There will be a special collection for Andy's fundraiser at the club's first fixture under the new lights – the first of their type in the northern hemisphere – on April 26 against Essex in the Royal London One-Day Cup.
Charles Clark, who took over as club chairman after Andy's departure earlier this year, said: "'The club is right behind my predecessor Andy in his bid to run the famous London marathon and raise a significant sum for the CHSW.
This is a wonderful charity with whom Somerset County Cricket Club has worked very closely for many years.
"It is typical of Andy that he has taken a highly original approach to mark the end of his period as chairman, as well as setting himself a daunting personal challenge. I have seen him shed the pounds this autumn and I am anticipating a sturdy run.
"As a club we are delighted to not only support Andy's run financially but also to work with him to promote his efforts on the wider stage. I hope that all our members and supporters, who are renowned for their generosity, will join with us in contributing to this excellent cause. The players and staff at the club will likewise be throwing themselves behind the event and will have a lot of fun in so doing.
"Andy poured to his heart and soul into our club and I intend cheering him on in London and watching the Somerset colours fly (or hobble) by. Let's do what we do best as a club and get together and hit that £26,000 target and more. Good for you Andy; get those trainers on and start running."
Eddie Farwell, founder and CEO of CHSW, said: "We're delighted that Andy has chosen to support CHSW by undertaking this incredible challenge and are so grateful to Somerset County Cricket Club for their ongoing support of our charity.
"CHSW offers vital support to more than 500 families living in the South West – respite for the whole family; a sibling service for brothers and sisters; emergency support; end of life care; and a bereavement service for as long as it is needed.
"It costs around £10million a year to run our three hospices in North Somerset, North Devon and Cornwall.
Without ordinary people like Andy offering to do extraordinary things to raise money for us, we just wouldn't be able to do what we do.
You can support Andy by making a donation to his online marathon fundraising page.
And look out for some eye-catching auction lots, including cricket tickets, experiences and memorabilia, donated by Somerset CCC and other county clubs on the CHSW eBay site.
Have you secured a ballot place in the 2019 Virgin Money London Marathon? The application deadline for Gold Bond places has now closed but you can still run for us. Find out more here.
Are you take part in a running event in aid of CHSW? Chat to other runners and share training tips and advice on our dedicated CHSW Facebook running group.