Creating new memories at Little Bridge House
An incredible, emotional 48 hours, jam packed with so much fun in the most beautiful place ever.
Emma and Mark Smale recently returned to Little Bridge House for a stay with their daughters Evie and Amelie, to show them why the hospice was such a special place for their first daughter Imogen, who died in 2016.
Emma said: "After Imogen died, we were told we could come back at a time of our choosing, to spend a weekend creating some new memories, whilst remembering the beautiful memories we already have of Imogen. We decided now would be the perfect time to visit whilst Evie and Ame
lie are still young and can take part in all of the activities their big sister used to love."
The two girls had fun creating some wonderful keepsakes in our 'Messy Play' room, as well as spending time in soft play and the sensory room, dressing up, music therapy, and even roller-skating and riding a tricycle in the gardens. They each made a special leaf to hang in Imogen's memory on our special tree. Evie's said simply: "To Imogen, I love you so much, love Evie". 
Imogen was born in July 2011 with a condition called microcephaly, which left her blind, unable to swallow and with polymorphic epilepsy. She needed round the clock care, physiotherapy and multiple medications, and the family were referred to Children's Hospice South West in March 2012. The hospice provided Emma and Mark with support, advice and the chance to enjoy some much needed sleep, whilst ensuring Imogen received the highest quality of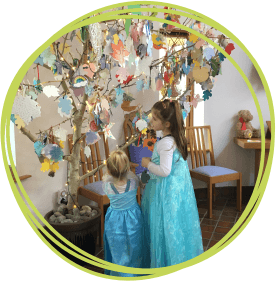 care and plenty of fun too. When Imogen died in hospital in 2016, the family brought her to Little Bridge House to lay in rest in the hospice's special Starborn room, so they could say their goodbyes in the place they say she loved most in the world.
Losing a child is the hardest thing a parent has to endure. At Children's Hospice South West, we offer bereavement support for the whole family for as long as they wish. For many families, this can be several years, and our Care teams are always happy to share memories or talk with a family about their child. Families are offered a bereavement stay or visit to the hospice, and are invited back to our Remembering Days and other activities, and our Mothers' and Fathers' support groups offer bereaved parents the chance to gather together and share experiences with others who have been through a similar journey.
Emma says she had some mixed emotions about returning to the hospice with Evie and Amelie:
I felt so apprehensive about going back to stay at Little Bridge House, and to say this weekend didn't bring up some real heart wrenching memories and thoughts would be a lie. However, these two little ladies can't fail to make me smile and seeing them having so much fun just reminds me of why Imogen loved her little holidays at LBH so much. This is genuinely the only place I feel we will truly feel connected as a family of five."