Challenge events help to raise over £9000 for CHSW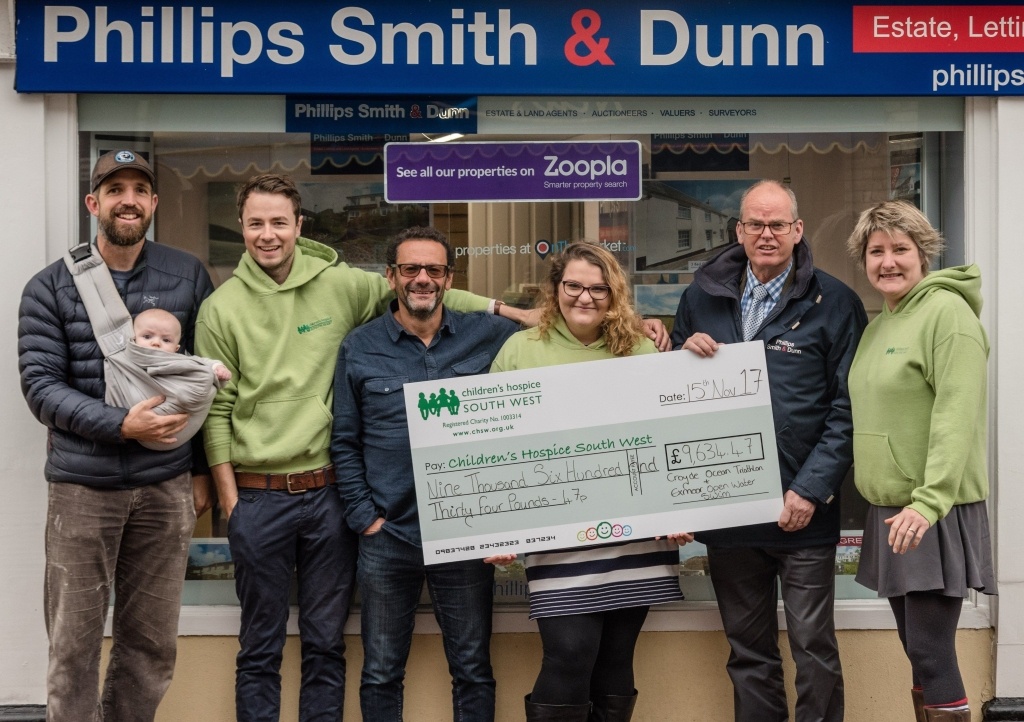 Croyde Ocean Triathlon and Exmoor Open Swim raise an incredible £9634.47 for Children's Hospice South West
Organisers of the Croyde Ocean Triathlon and Exmoor Open Water Swim were delighted to present Children's Hospice South West (CHSW) with a cheque for £9634.47 raised from participants of the 2017 events.
Josh Allan, Community Fundraiser at CHSW's Little Bridge House hospice in Fremington said:
'This is such an amazing amount of fundraising and it's been a privilege to have been involved in such exciting local events. We're overwhelmed with the amount of support we've had, and would like to thank everyone who has contributed to this fantastic donation.'
The monies raised from the events will help support the work of the hospice which provides care and support for children with life-limiting conditions. The hospice is open 365 days a year and also provides respite care for parents and siblings.
The cheque was presented to CHSW at the offices of estate agents Phillips, Smith and Dunn in Braunton, who were sponsors of the charity golden tickets for the events and Event Director, Mike Morris said:
'Not only do myself and Pete Wright get to organise these great events, but also it is fantastic to raise this amount for the Children's Hospice! We would like to thank Charles Tippett at Phillips Smith and Dunn for sponsoring the golden tickets and also all the volunteers and staff at the Children's Hospice for helping at both these events.'
Both events will be returning for 2018, and registration for the Croyde Ocean Triathlon, in association with The Pickwell Foundation, opens on December 4 2017 at 7.00am. To find our more, visit www.croydeocean.co.uk
If you would like to find out more about the work of the hospice and where the fundraising goes, Little Bridge House has open days each month. To arrange a visit, see www.chsw.org.uk/open or call 01271 325270.
-Ends-
Photograph shows: From Left to right:
Pete Wright (Race Director(), Josh Allan (CHSW Community Fundraiser), Mike Morris (Event Director), Zoe Miles (CHSW), Charles Tippett (Director, Phillips, Smith & Dunn) and Emma Perry (Senior Fundraiser at CHSW)