Bubble Rush fun brings in cash for CHSW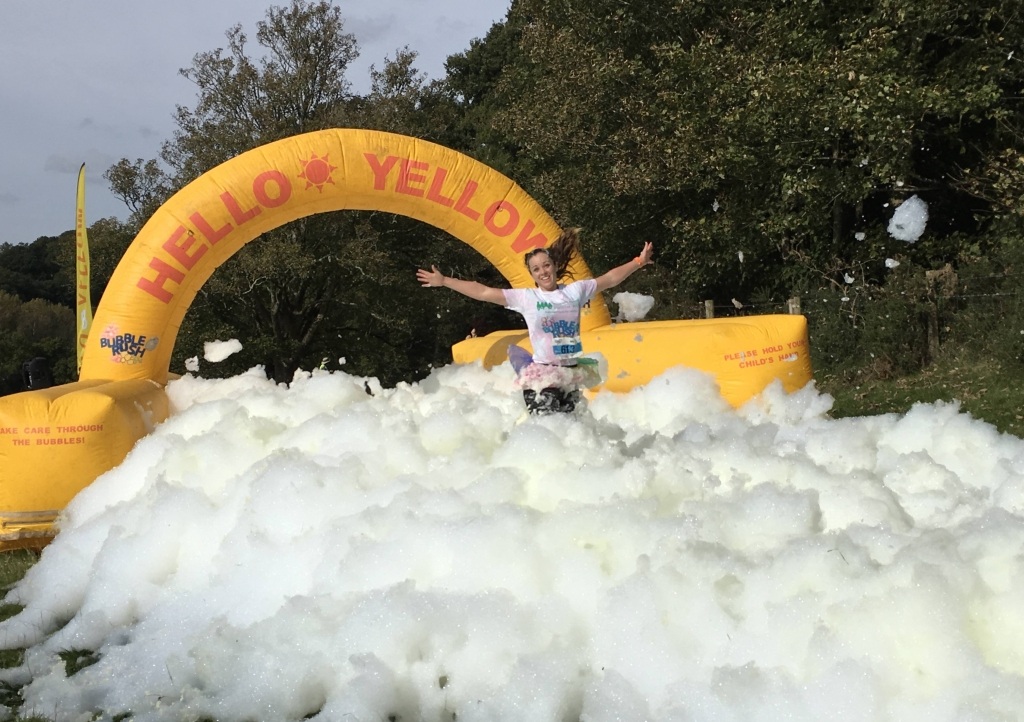 The Children's Hospice South West (CHSW) team is delighted with the success of the charity's Bubble Rush event which took place on Sunday 7th October at Newnham Park in Plymouth.
Over 1000 people took part in the 5km family fun run which saw participants of all ages run, jog, skip, dance and walk through a sea of bubbles and foam at stations along the route leaving them covered in different coloured foam.
The charity hopes that the event will raise around £40,000 to help provide care at its Little Harbour children's hospice in St Austell. Little Harbour is currently supporting over 120 local children with life limiting illnesses and their families including many from Plymouth. It provides short breaks, respite stays as well as palliative care, end of life care and bereavement support.
Speaking on the day before taking part themselves were Becky and Rich Hele who used Little Harbour last year when their baby boy Jack sadly died at the hospice just days old. Reflecting on the support they have received from the hospice mum Becky said; "We used Little Harbour last year when we lost our son Jack, Little Harbour not only helped us in a horrific time but they also continue to support us.
They have really helped us in continuing to keep Jack's memory alive and supporting us through what is difficult now, what was difficult then and what is going to be really hard in the future.
Generous sponsorship from main event sponsor GA Solicitors along with bubble station sponsors Viridor, SDS as well as Trinity Independent Mortgage Brokers means that even more of the money raised in sponsorship by everyone who took part will be able to go straight to the charity.  
Kiley Pearce, Events Fundraiser for CHSW said "We would like to thank all those who have helped make the Bubble Rush such a success. Thank you to everyone who took part and raised the all important sponsorship, our event sponsors, all of our event volunteers and everyone who helped make it happen. We are so grateful to have the opportunity to get so many people in Plymouth engaged in what we do as a charity helping children and families from your local area."
Photos of the event will be coming soon to the Children's Hospice South West Facebook Page.