Ann's Cottage Announced as Rainbow Run Newquay Sponsor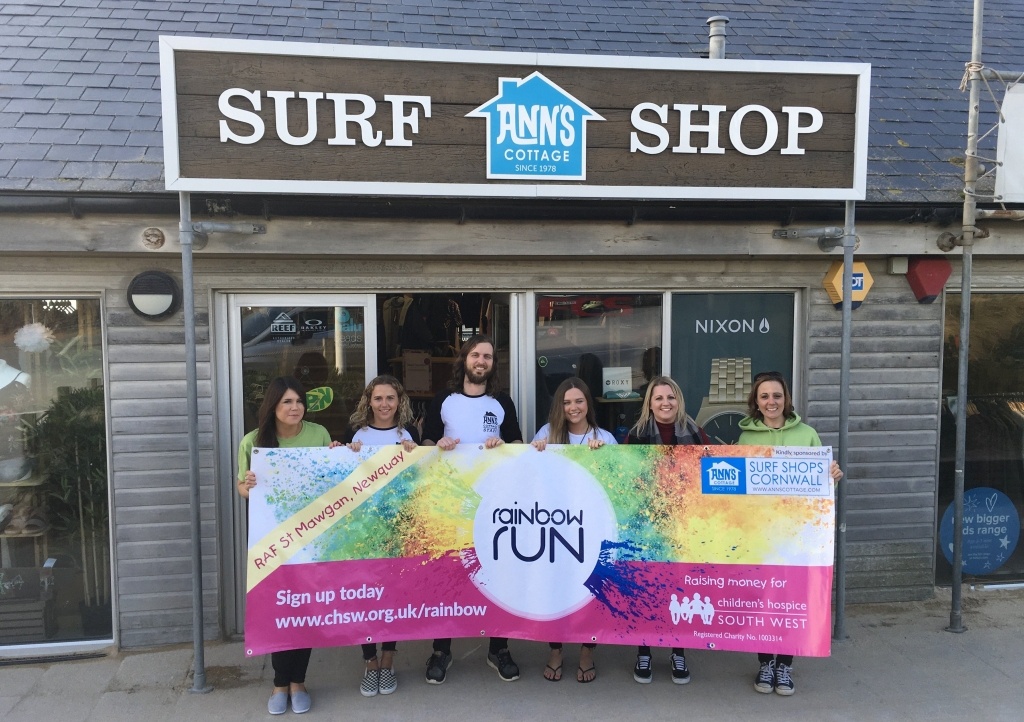 Local surf and lifestyle retailer Ann's Cottage has been confirmed as the main sponsor for Children's Hospice South West's Rainbow Run in Newquay which raises vital funds for CHSW and its Little Harbour children's hospice in St Austell.
Ann's Cottage has sponsored the 5 km fun run since its first year in 2014 and its sponsorship means that more of the money raised by those taking part can go straight to the charity rather than going towards event costs.
The Rainbow Run is a fun run with a difference and involves participants of all ages running through different coloured paint stations around the 5km route and getting covered in powder paint. The event will take place this year on Sunday 24th June at RAF St Mawgan in Newquay. Last year almost 2000 people took part in the Rainbow Run which raised over £88,000 for CHSW.
Claire Frost, Corporate Partnerships Fundraiser for CHSW said "We are so grateful to have Ann's Cottage on board again as sponsors for this year's Rainbow Run. Their sponsorship makes a huge difference to the event and means that so much more of the money raised by everyone taking part can go straight towards supporting the children and families that use Little Harbour."
Rob Harris, Managing Director and Owner of Ann's Cottage is a keen supporter of CHSW and said "It is incredible what all the staff do at Children's Hospice South West, offering expert care and support for the children and their families. I have been lucky enough to visit Little Harbour Children's Hospice at St Austell - it was an extremely touching experience. This is such a great cause and the Ann's Cottage team really want to help in any way we can to raise awareness and as much money as possible for this very special charity."
Little Harbour children's hospice in St Austell is one of CHSW's three children's hospices in the region. It offers short breaks to families with children suffering with a life limiting or life threatening illness as well as providing respite, emergency stays, end of life care and bereavement support. Little Harbour is currently supporting 109 local families from Cornwall, Plymouth and the surrounding area and is a lifeline to those families.
If you are interested in signing up to the Rainbow Run it is open to anyone 5 years and over and  there are early bird discounts currently available so click here for more information.