Ann's Cottage Sponsor Newquay Rainbow Run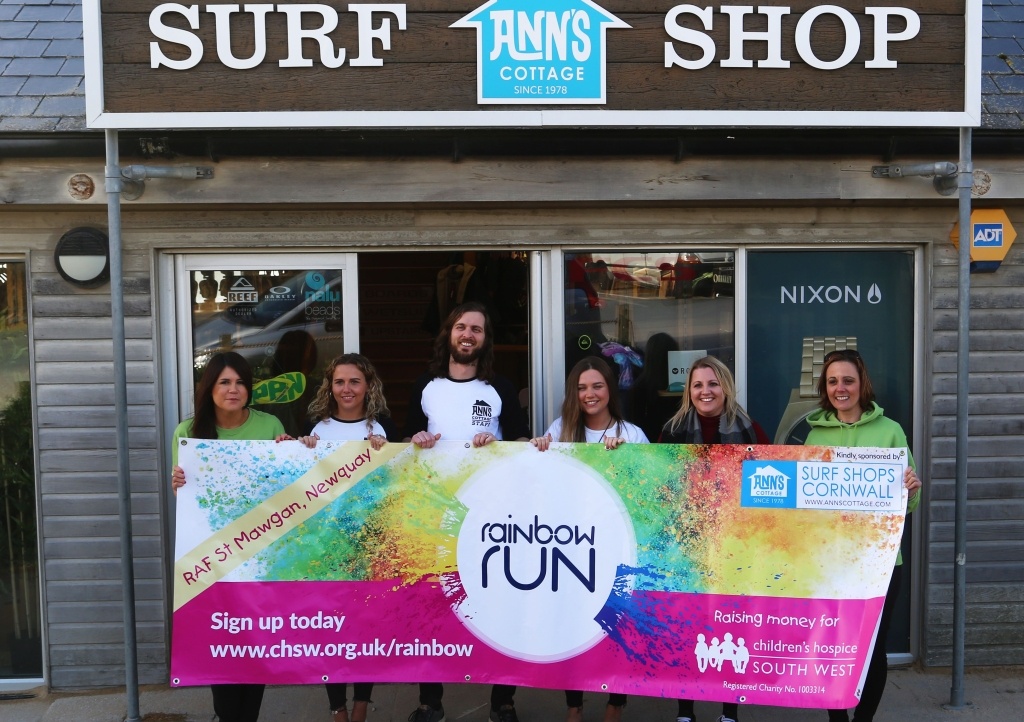 Children's Hospice South West (CHSW) is excited to announce it has the support of Ann's Cottage as the gold sponsor of the charity's very colourful Newquay Rainbow Run.
Rainbow Run is now in its sixth year and CHSW sees people come from all over the county take part in the 5km fun run through coloured powder paint stations and raise vital funds for the charity. The event is returning to RAF St Mawgan in Newquay on Sunday 23rd June.
Ann's Cottage is the largest retailer of surf wear and accessories in Cornwall and is proud to be Born by the Sea since 1978. Sponsorship of the event by Ann's Cottage means a great deal to both teams.
Rob Harris, Owner and Managing Director of Ann's Cottage said;
It is incredible what all the staff do at Children's Hospice South West, offering expert care and support for the children and their families. I have been lucky enough to visit Little Harbour Children's Hospice at St Austell - it was an extremely touching experience.
This is such a great cause and the Ann's Cottage team really want to help in any way we can to raise awareness and as much money as possible for this very special charity.
Bernadette Chambers, Corporate Partnerships Fundraiser for CHSW said;
"We are so grateful for the support from Ann's Cottage as our gold sponsor once again for the Rainbow Run. Having such a well-known Cornish retailer showing their support not only for the charity but for one of our biggest fundraising events is fantastic. This means that more money raised by everyone taking part in the event can go straight towards providing care and support to the children we look after at Little Harbour rather then being taken up on event costs. This sponsorship really does make a difference."
Registration for the Rainbow Run is open now and over 600 people have already signed up. Anyone over the age of 5 can take part and people can run, jog or walk the 5km – it is not a race, it is about having fun!
To sign up for the Rainbow Run in Newquay click here