Alison to hang up her apron after nearly 25 years as hospice cook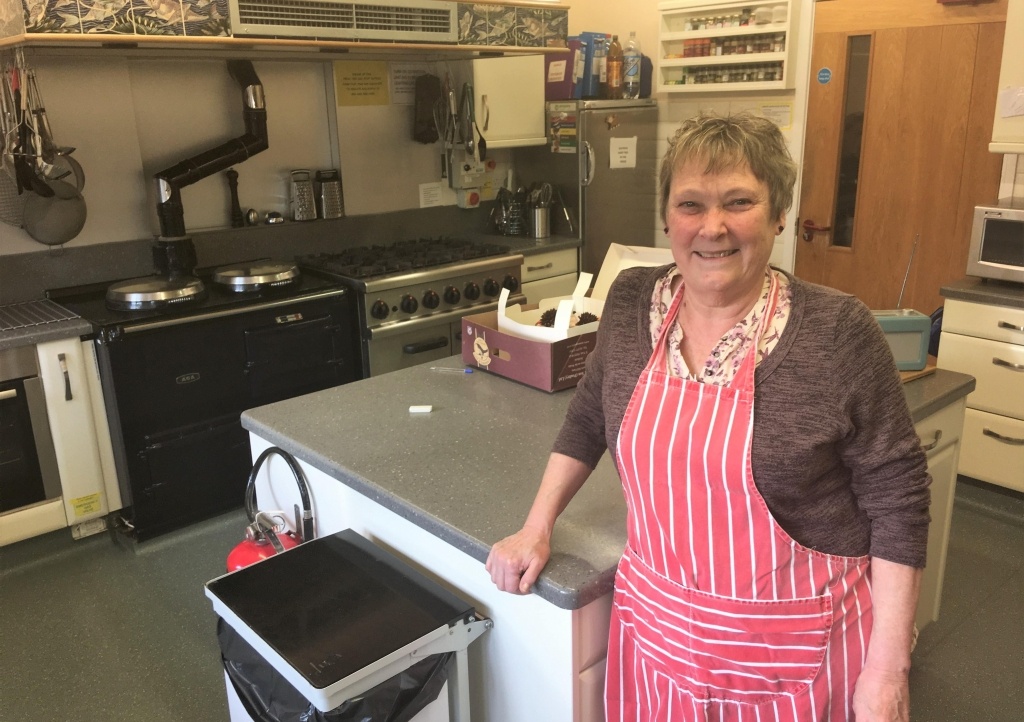 One of the longest serving members of staff at Children's Hospice South West is retiring today (Monday) after nearly a quarter-of-a-century at the charity.
Alison Vogler, senior cook at Little Bridge House, was one of the original care team members when the doors of the hospice opened for the first time in September 1995.
Nearly 24 years later, she will be hanging up her apron after more than two decades providing families at the hospice with delicious home-cooked meals.
"I've got mixed emotions about retiring," admitted Alison, from Sticklepath in Barnstaple.
"I've been here a long time and sometimes what you do is who you are; but my husband Dave retired as an engineer last year so we're looking forward to being able to spend more time together."
Alison, who will be 65 years old in August, worked at Barnstaple Fire Station when she saw the job advertised for a cook at the new hospice in Fremington.
"I had been cooking for the firefighters for a while but fancied doing something a bit different and jumped at the chance to be involved with the new hospice," she said.
Every day is different – the hospice truly is an incredible place. At one end we could be having a birthday party, while at the other, we might be providing support to a bereaved family.
"But the kitchen is at the heart of family life and that is the same at the hospice. The kitchen and our dining room is a place where families not only come for food and drink, but to enjoy the chance to spend quality time together."
Alison said she had seen many changes over the years, the biggest being the addition of two more hospices – Charlton Farm in North Somerset, and Little Harbour in St Austell.
She added: "I have worked alongside many dedicated, caring, kind and multi-skilled colleagues who make Little Bridge House what it is for our families – a safe and welcoming home from home.
"I have shared the kitchen with a small team of wonderful volunteers who give their time freely and make our work easier. 
"I have met friends groups and supporters who make the work we do possible through their generosity, and incredible families who let us share a small part of their child's journey, be it long or short. They are truly an inspiration.
"I will miss it all, but as I sail off into the sunset – those who know me well, know that I love a cruise! –  I know that Little Bridge House and CHSW will continue to support the families for the next 24 years."
Eddie Farwell, CHSW chief executive, said: "Alison has been the mainstay of our kitchen at Little Bridge House since we opened our doors and her wonderful home-cooked meals have been an important part of what makes the hospice such a special home-from-home, with mealtimes being a vital time for families to come together and share their experiences.
Little Bridge House will not be the same without Alison but we a wish her a very happy retirement and offer our heartfelt thanks for such long and dedicated service to Children's Hospice South West.
Tracy Freame, head of care at Little Bridge House, said Alison's retirement marked the 'the end of an era'.
"With the exception of Eddie, Alison is the last remaining link with the start of CHSW and I have gained such great insight into the workings and structure of the charity from her over the time I have worked here," she said.
"We will miss Alison and her invaluable knowledge of Little Bridge House and families, but also her dressing up as a fairy every Christmas Day to cook us the most amazing lunch ...and even the monthly reminders that the coffee pot or the mugs are missing!"