55 mile marathon completed by Johnny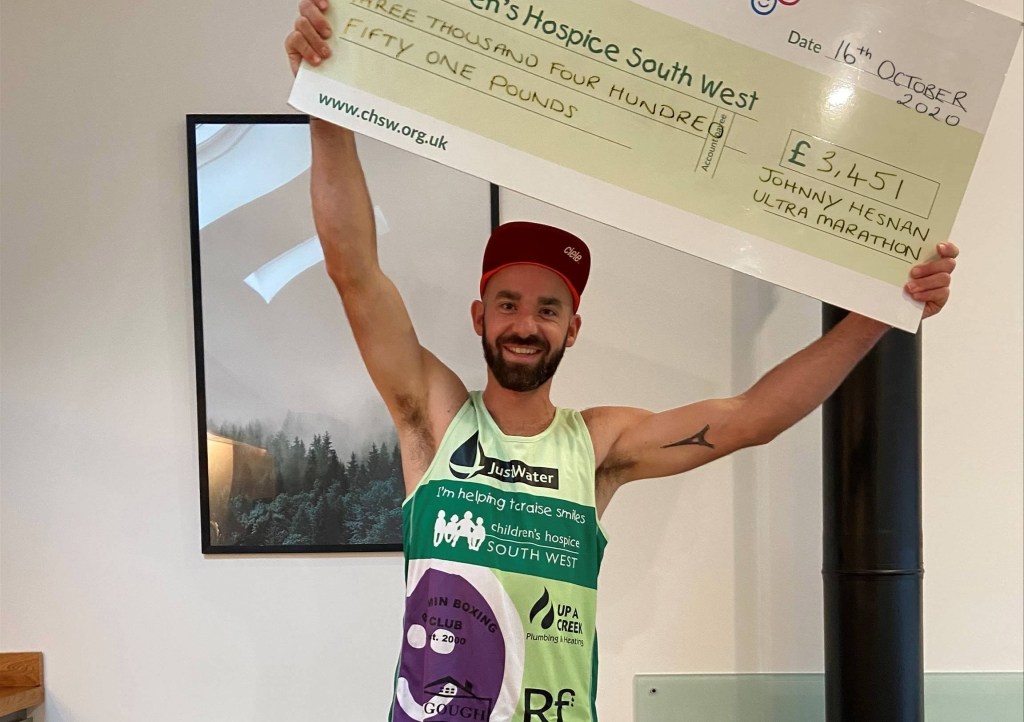 Bodmin based Johnny Hesnan recently completed a 55 mile ultra-marathon and has raised over £3000 to be donated to two local causes.

Johnny had originally signed up to take part in the Coast to Coast ultra-marathon which would have seen him run 63 miles from Dawlish to Minehead in July. Sadly due to Covid this event was postponed. Johnny's second race option was also then cancelled leaving him with the tough decision of whether to wait until next year to take on one of these events or to put his training into practice and create his own route, which is exactly what he did.
Johnny explained why he was so determined;

I felt like it was a long time for the charities to wait when all this money was just sat there doing nothing and I was sure that now more than ever they could really do with the extra help

On 11th October Johnny ran 55 miles from Porthcothnan on Cornwall's north coast all the way to Fowey on the south coast which took him 11 hours and 5 minutes to complete. He plotted the route himself and was joined on some sections by friends running or cycling with him.

Not only was Johnny keen to complete the mileage but he was also passionate about raising as much money as he could for Children's Hospice South West (CHSW) and Bodmin Amateur Boxing Club, two causes he knew would appreciate the donations after months where fundraising has really taken a hit. 

Johnny recently handed over a donation of £3451 to Amanda Masters, Community Fundraiser for CHSW who said "Wow, what a challenge! We are so grateful to Johnny for choosing to support us as it has been a really challenging few months but it is heartening to see people getting back into fundraising and creating their own ways of raising vital funds."

Anyone who has been inspired by Johnny and has a fundraising idea of their own, however big or small, is encouraged to make contact with CHSW

Little Harbour children's hospice in St Austell has been continuing to support over 130 children and families from across Cornwall and Plymouth throughout the pandemic with their new model of care; Hospice, Home and Virtual and relies almost entirely on voluntary donations to keep providing this support.