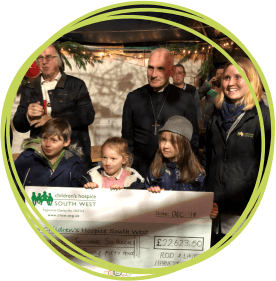 The Rod and Line's harvest auction reels in cash
The Rod and Line's harvest auction has proven more popular then ever raising vital funds for CHSW
The Rod and Line pub at Tideford in Saltash has recently handed over a substantial donation to Children's Hospice South West (CHSW) following its annual Harvest Auction.
The Rod and Line's harvest auction has become well known in the area with many people from the local community not only donating items to be auctioned but also very generously bidding on the lots on the night. 2018's harvest auction was no exception with £22,623.50 being raised and donated to CHSW.
Zoe Partridge, Community Fundraiser for CHSW was extremely pleased to collect the donation on behalf of the charity. Zoe said
What an absolutely incredible amount raised from just one night. On behalf of all of the children and families that we support at the hospice I would like to thank everyone who was involved in organising the auction, donating auction lots and of course to all of those who bid such generous amounts, we are truly grateful.
Money raised from the auction will help the charity to continue supporting around 130 local children living with life limiting and life-threatening illnesses and their families. The children and families can stay at CHSW's Little Harbour hospice in St Austell for short breaks and respite as well as for end of life care and can receive bereavement support for as long as they wish. It costs around £3 million a year to run Little Harbour which relies heavily on the generosity of the local community and its fundraising for the charity.
To find out more about the charity and how you could get involved with fundraising simply click here