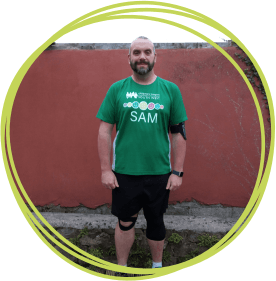 Sam from Weston-Super-Mare is taking part in his first ever marathon.
Sam will be achieving a life goal when he runs the London Marathon
In January 2018 I weighed 28 stone, and decided it was time to take up jogging as a way of losing fat and trying to get healthy. I've never run a marathon before, and had never even been running before, but it's always been a life goal of mine to complete a marathon, even though I've always been too unfit and too fat.
Everything is going to change this April 28th, when I take part in the London Marathon, running for Children's Hospice South West! I ran the Bristol Half Marathon in September 2018, raising money for CHSW, so whilst training I thought, why not apply for a Gold Bond place in the Marathon, and can you believe it – I was successful! I was so happy when I got the news. Go figure - happy about doing 26.2 miles!
I've now taken part in two half marathons, 10k's, 5k's, plus all of the training I've been doing getting ready for the marathon. So far I've lost 8 stone of fat in 15 months, so I'm still 20 stone, and the London marathon will hurt, but I'm going to get to that finish line to prove to myself I can do it, all whilst raising money for CHSW, which is just the most amazing charity.
The training is hard - very hard. I'm not a natural runner (I'm a slow runner/jogger) and being 6ft 3" and 20 stone that's a lot to drag round a course and uses a lot of energy to get myself going, and keep going forward. I use music as motivation when I'm jogging, and, I've never told anyone this before, but a good tip is to think of something to get you emotional if you're struggling when running - it will give you a natural boost, it does for me anyway. When I'm on a long run I sometimes imagine myself getting near the finish line and what it will be like if I'm struggling, and I cannot wait to experience the real emotions of this in April! (Don't expect me to overtake many people though, ha!)
People ask me if I need any inspiration or motivation to run and raise money for CHSW? My answer is, I don't. What the charity does is simply unbelievable, and I have massive respect and admiration for all the people who work there, and those who continue to raise money for what is an amazing place and charity. I have no connection with CHSW, meaning I have never used their services, and I hope I never have to, if you know what I mean. Being a dad and a family man, I can only begin to imagine how hard it is to be there sometimes for anyone involved, so as little as I'm raising, I know it is going to be put to the best use possible.
It's been hard raising the money, but people are so kind and generous - there's still a lot of good in this world even in difficult times. To help me reach my fundraising goal I put on a charity gig with The Lipinskis band in February, which raised £900 towards the total! I've baked cookies, cakes, got my wife to sell them at her work, it all helps! Social media has helped, and with my weight loss story it's really helping my donations. I've nearly hit my target of £2000 – when writing this I'm currently £209 off. I cannot thank CHSW enough for letting me raise the money for them, and for giving me a place in the marathon to represent the Charity. I won't let the kids down, or anyone that has sponsored me.
The thing I'm looking forward to most... the finish line on Sunday April 28 2019 and the emotions it's going to bring, realising that I would have done something which I told myself I could never do, all whilst raising money for CHSW whilst doing it!!
It will also be my wife and I's 10th wedding anniversary on that very day, so whilst I'm out in a pool of sweat and tears along a 26.2 mile route through London, she will be waiting for me at the finish line. I cannot thank her enough either for supporting me through the last year, it's been a bit of an up and down ride, but we are nearly there! Bring on The London Marathon 2019!!!!
If you would like to donate to Sam's fundraising, visit his fundraising page.