Martin from Thornbury is about to take on his first ever marathon
Martin is raising funds for Children's Hospice South West as his family currently receive bereavement support from the charity.
On Sunday 28th April, Martin Abrahams from Thornbury, will be attempting to run his very first marathon - the iconic Virgin London Marathon. He is raising funds for local charity, Children's Hospice South West (CHSW) as they supported him and his family after his daughter, Jess, passed away in 2017, age 6.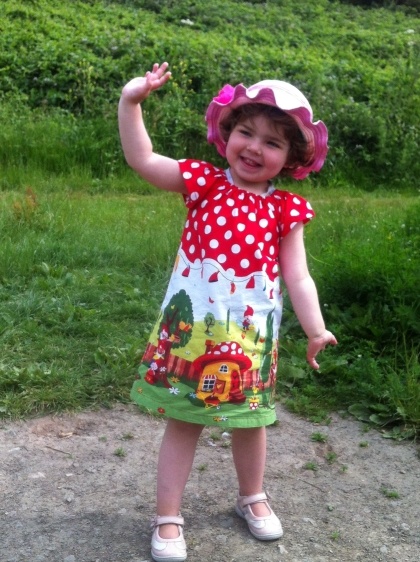 "When my wife Mel and I lost Jessica to leukemia in 2017 a number of charities had helped us, but one stepped in and guided us through our nightmare first week - CHSW. We had never been to its Charlton Farm hospice before, but they took us all in, fed us, helped us through all the steps of arranging Jess' funeral, gave our other daughter Zoe sibling support, offered us kind ears and lots of cake. They are still helping us now with bereavement days."
All three CHSW hospices in the South West aim to help and support families who face the emotional and physical strain of caring for children who, sadly, are not expected to live into adulthood. It provides specialist palliative care, respite for the whole family, a sibling service for brothers and sisters, emergency support, end of life care and a bereavement service for as long as is needed.
Martin says, "I just don't know what we would have done without them [CHSW]. At a time when our world was crumbling, they knew just how to help."
I just don't know what we would have done without them CHSW. At a time when our world was crumbling, they knew just how to help.
Martin has been fundraising relentlessly for CHSW's Charlton Farm and has set himself a target of £3,000. He's been setting up his treadmill (which he refers to as his 'dreadmill') in various locations in and around Bristol in order to raise awareness of CHSW and help him reach his fundraising target. He said, "On 16th February we set up at Cabot Circus and managed to raise an amazing £415.60 - we were thrilled with the response we got and the positive comments too!"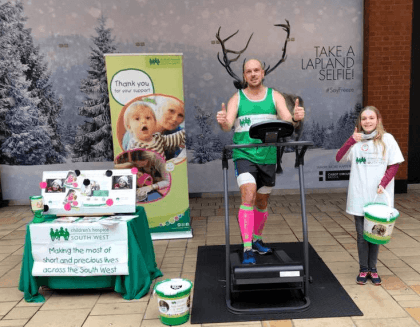 CHSW Community Fundraiser, Frances Kenneally, said, "Martin has set himself a huge challenge in running a marathon, but he is determined to meet his target and spread the word about the vital work we do at the same time. We wish him every success at the London Marathon and will be there on the day to cheer him on!"
For Martin, running is a remedy. "I run as it has become a part of my therapy. I have never run a marathon but now is the right time as I want to give something back and help those still fighting for their loved ones, still giving quality time whenever they can. Running for precious lives."
On March 23rd Martin, Melissa and Zoe will be continuing to raise vital funds and awareness at Yate Shopping Centre outside the CHSW shop, where they will have lots of information about Jess and CHSW. Please do go and show your support.
If you'd like to donate to Martin's fundraising click here.