The Incredible Hike is a guided 3-day walk totalling 60 miles from Minehead to Croyde. Every year, we'll pick up where we left off, walking to complete the South West Coast Path while raising money for children and young people living with life-limiting conditions. 
 
Sign up for our Incredible Hike and take in the breath-taking sights. From the coast path's official start point at Minehead, you will trek the rugged coastline of Exmoor, down to the scenic harbour village of Lynmouth, winding through idyllic coves and finishing in the seaside village of Croyde.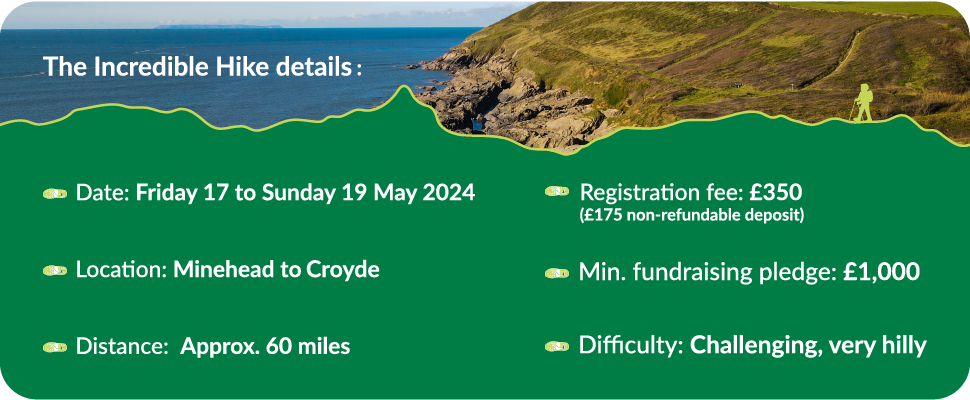 We're here to help
Join Team CHSW and we'll be with you every step of the way! For more information call Kate or send us a message.
Ask a question
Sign up
How to raise 'a grand'
Raising £1,000 might seem like the ultimate challenge but we've got so many tips to help you reach and smash your fundraising target.
Here are 10 easy fundraising ideas to raise £100 each - sorted! 
Have a clear out and go to a car boot sale 
Post your training pics to social media with a link to JustGiving 
Create a Vinted or other online re-sell account and sell your unwanted clothes and accessories 
Hold a quiz or bingo night at your local pub 
Charity car wash 
Bucket collection at your local supermarket – contact us to get an official CHSW collection bucket! 
Hold a bake sale at work 
Guess the number of sweets in a jar 
Hold a coffee morning at your local church or village hall 
Put a collection tin in your local shop - contact us to get an official CHSW collection tin! 
Get more fundraising ideas Set up JustGiving page
Take it steady 
You don't need to hit your £1,000 target all in one go! Fundraising little and often can be the most effective way to reach your target.  
Bake sales, bingo nights, and bucket collections can all raise over £100 a time! 
Share your story 
Harnessing the power of social media will kick-start your fundraising journey. It's so quick and simple to setup a JustGiving page, and make sure you regularly share your page and the story of why you're taking on the Incredible Hike with your friends and followers. Reports from JustGiving and GoFundMe say that each share on Facebook can be worth anything from £10 to £35 per share!  
Fundraising at work 
Your workplace may also be able to support you, from swear jars and sponsored silences to matched funding or hosting a company quiz night, reach out to your employer to see how they can support you. 
Run a tuck shop from your staff room/office 
Hold a sponsored 'dress down day' 
Have a 'swear jar' or 'jargon jar' 
We're here to support you 
Once you register for the Incredible Hike, we'll be here to support you at every step of the way too. You'll have access to exclusive fundraising support and materials. 
Regular Zoom calls with the rest of Team Hike and CHSW Fundraising Team 
Check-ins and contact with your local Area Fundraiser 
Access to a private Facebook group to support each other and share fundraising tips 
We're here to help
If you have any questions or need further support with your fundraising, contact Kate.
Ask a question
Your incredible experience! 
As an Incredible Hiker you'll receive: 
Incredible Hike top and buff 
Training plans and kit list 
Fully guided route 
Pit stops with snacks and drinks 
Accommodation, food and bag transfers 
Finishers' medal and bubbly 
About your incredible weekend
Friday 17 May 
Minehead to Countisbury 
START: South West Coast Path monument, Minehead
Water stop 1: Near East Myne
Lunch: Porlock Weir
Water stop 2: Just off A39
Finish day 1: Countisbury, Blue Ball Inn
Saturday 18 May 
Countisbury to Watermouth Harbour
Start day 2: Countisbury, Blue Ball Inn
Water Stop 1: Valley of the Rocks
Lunch: Heddon Valley
Water stop 2: Combe Martin
Finish day 2: Watermouth Harbour
Sunday 19 May 
Watermouth Harbour to Croyde 
Start day 3: Watermouth Harbour
Water stop 1: Lee Bay
Lunch: Mortehoe
Water stop 2: Putsborough Sands
FINISH: Croyde
We're here to help
Join Team CHSW and we'll be with you every step of the way! For more information call Kate or send us a message.
Ask a question